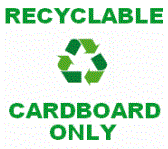 The way we were doing it before, recycling took far longer and cost more in terms of labor and transportation. Now, all of our efforts go right back into the local community.
Mooresville, IN (PRWEB) November 13, 2013
Rural communities often face unique challenges when it comes to recycling. Robert Clipp, owner of Primitive Home Decors, had cardboard boxes piling up in his Mooresville warehouse, and his options for disposal were limited. Trash services would charge up to $175/month to pick them up, and the nearest recycling center was a 30 minute drive each direction.
Limited populations and resources often make rural recycling programs cost-prohibitive. But as it turns out, more small business owners and residents are making the same commitment to environmental responsibility as their big-city counterparts.
"Recycling was never really an option, we believe recycling is a necessity," said Clipp, who started the country home decor business in 2006.
"Glass, aluminum and paper are easy to recycle without a lot of effort, but the cardboard became a big challenge as the business grew. There aren't many good options in the Indianapolis area for cardboard recycling so we would collect the unusable boxes and haul them downtown to deposit them in a recycling container. The drop-off location was inconvenient and took a tremendous amount of time and effort."
"When we moved our warehouse to Mooresville in 2012, I was determined to find a better solution. We talked to local recycling companies and the cost for an on-site recycling container was over $2,000 a year. They wanted us to pay them to recycle - that just didn't make sense to me."
Clipp began to search for alternatives, and that's when he discovered Dave Rihm, proprietor of a Mooresville non-profit recycling program that would actually pick up his paper and cardboard materials and use them to fund local community-building projects.
"We have six trucks that make pickups in Mooresville," said Rihm, who started the program as a cooperative fundraising effort for the Mooresville chapter of the Optimist Club, a service organization that aims to improve the lives of young people. Volunteers collect recyclable materials, and the proceeds support the Mooresville Optimists. Thirteen years ago, the local chapter of the Knights of Columbus also became involved, said Rihm.
Clipp said the recycling program has saved a tremendous amount of time and energy. All his staff has to do is prepare the materials for pick-up, and Rihm's team of volunteers collects them from the warehouse.
"The way we were doing it before, recycling took far longer and cost more in terms of labor and transportation. To top it off, all the proceeds from our efforts went to an out-of-state for-profit corporation. Now, all of our efforts go right back into the local community."
The proceeds directly benefit rural communities and their young people, and local business owners like Clipp are able to lessen the environmental impact of their businesses.
"The world is a little greener and the local community benefits from our efforts," said Clipp. "Dave Rihm should get a medal. I can't imagine how many thousands of tons of recyclable materials he has salvaged over the last four decades."
For nearly 40 years, Rihm was able to overcome the limitations faced by rural non-profit recycling programs, but Rihm recently announced that because of a shortage of recyclable goods coupled with increasing fuel costs, the program would no longer be able to operate.
Rihm's organization was the only one of its kind in Mooresville to accept corrugated cardboard, and the program also accepted newspapers, phone books, aluminum and steel cans, glass bottles and jars, and #1 and #2 plastic containers. Rihm urged his recycling clients to take advantage of other available recycling programs for their paper goods, and also urged his clients to contact Mooresville's town council. For a complete list of rural recycling centers in Central Indiana, please visit GoGreen.coop. The site is managed by the South Central Indiana REMC, a rural electric cooperative that aims to find ways to be more environmentally responsible.