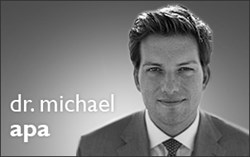 New York, NY (PRWEB) December 18, 2013
Dr. Michael Apa of The Rosenthal Apa Group knows how important it is for everyone to have that "A" list smile. In the November issue of Better Homes and Gardens, Dr. Apa shares some quick and easy tips on how to achieve a pearly white smile. From Dr. Apa' s experience, "Most people only brush for about 20 seconds total - not nearly long enough to remove stains." Therefore, he shares different solutions to help every patient obtain a whiter brighter looking smile. Not only does he share his home remedies, but also some helpful tips on in office whitening procedures that can be done effectively.
He has also been published in an article entitled "Your Aging Teeth" http://www.healthywomen.org/content/blog-entry/your-aging-teeth. In Sheryl Kraft's recent article, Dr. Apa shares his knowledge on how a person's smile ages throughout the years, and what impact it will have on a person's facial features and musculature. He provides the readers with what course of action to take and how best to preserve a natural smile. When performing a smile makeover or doing a full mouth reconstructive case, Dr. Apa always takes the entire face, facila features and musculature into consideration, using his unique F.A.D. approach (Facial Aesthetic Design) to smile design. His patients are assured that they will receive an end result that will be more complimentary to all of their other facial features. The end result is a better, naturally enhanced and more youthful looking you.
Patients flock to the Rosenthal Apa Group in New York City from around the globe for a smile so natural that it is simply undetectable. Some examples of this can be found on http://rosenthalapagrp.com/before-after/.
About Dr. Michael Apa
Dr. Apa is redefining modern dentistry, raising skillful dentistry to the level of dental art. Facial Aesthetic Design is his pioneering approach to crafting the perfect natural-looking smile, eliminating imperfections and creating a symmetry that ensures each facial feature works together for a harmonious end result that is more complimentary and brings out a patients other facial features. A graduate of New York University College of Dentistry, his unique expertise makes him a sought-after dental authority, and he has been featured recently in Esquire, Harpers Bazaar, OK Magazine, Better Homes and Gardens, Forbes, and Allure magazines amongst many others and in numerous television appearances, notably Today, Inside Edition, Tyra and on VH1.