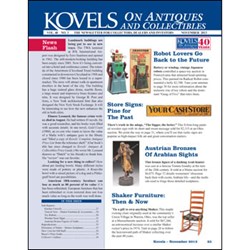 Cleveland, OH (PRWEB) November 05, 2013
Vintage Japanese robots controlled a space-toy auction in Pennsylvania that attracted head-spinning prices. Read about the meteoric rise of toy robots and find pictures and prices of some of the dominant "Gang of Five" that rules them in "Kovels on Antiques and Collectibles November" newsletter. A bronze figure of a dashing Arab hunter cast at a famous Vienna foundry sold for just over $6,000 at a Maine auction. Kovels' November newsletter details westerner's early 20th century fascination with exotic Arabian life with pictures, prices and descriptions of other painted bronze sculptures and the methods used to forge them. And "Kovels' on Antiques and Collectibles" newsletter continues to observe its 40th year of publication with a Then & Now sale report featuring Shaker furniture and accessory collecting over the past 40 years. A maple rocking chair originally used at the Shaker Union Village in Warren, Ohio, was the top seller at a 2013 Massachusetts auction, where it went for $67,260.
Also pictured with prices are rustic wooden store signs with short and sweet advertising messages that sold at auction in Ohio, most for over presale estimates, and antique kitchen utensils—from ladles and nippers to toasters and kettles—sold at a Virginia auction where a painted Pennsylvania tin tray was the top seller, at $1,380.
New Uses for Old Stuff shows a vintage vinyl record album turned into a working clock. November's Dictionary of Marks lists marks on bronze sculptures. The popular illustrated Collector's Gallery has answers to readers' questions about a Nippon jam jar, Victor sewing machine, Porcelier coffeepot and goofus glass bowl. The Buyer's Price Guide has current prices of dozens of antiques and collectibles and also looks back to its counterpart from November 1974.
Kovels on Antiques and Collectibles is available as a print subscription or as a digital version that is part of the Kovels.com Premium subscription.
Terry Kovel is America's foremost authority on antiques and collectibles. Terry is a well-known columnist and renowned author of over 100 books. With her daughter, Kim Kovel, she co-authors the best-selling annual "Kovels' Antiques and Collectibles Price Guide." They will discuss antiques and collectibles topics with accredited media. Photographs are available. Contact pr(at)kovels.com.
About Kovels.com
Kovels.com, created by Terry Kovel and Kim Kovel, provides collectors and researchers with up-to-date and accurate information on antiques and collectibles. Kovels' Antiques was founded in 1953 by Terry Kovel and her late husband, Ralph. Since then, Kovels' Antiques has continually published some of America's most popular books and articles about antiques, including the best-selling "Kovels' Antiques and Collectibles Price Guide," now in its 46th edition. The Kovels' website, online since 1998, and free weekly email, "Kovels Komments," give readers a bird's-eye view of the market through up-to-date news, auction reports, free online Price Guide, a Marks Dictionary, readers' questions with Kovels' answers and much more.
Contact Information:
Liz Lillis
216.752.2252
Pr(at)kovels(dot)com