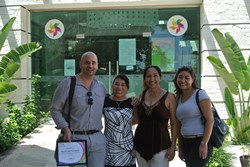 Cancun, Mexico (PRWEB) November 07, 2013
It is not a matter of if a hurricane is going to strike in the Caribbean, it is a matter of when. The "tourist zone" is well prepared for these eventualities. The multi-million dollar hotels that make up this area all have contingency plans in place, with emergency kitchens, sleeping quarters and in some cases even entertainment. Most people in times of crisis go home to their family and organize a plan to deal with the emergency. But what if they have no family?
This was the question recently asked by the Directors at Hurricane Solution, the leading hurricane protection company in Mexico (called "Lonas Anticiclonicas" in Spanish) and the Caribbean. It lead them to the local shelter for abused children and battered women, an organization that is made up of volunteers that help those most in need. What they found is when there is an imminent threat there is currently no plan in place.
This is when the Hurricane Solution went into gear. First the Solution Specialist Team inspected their buildings and found the strongest one structurally. Then a hurricane protection system was fabricated and fitted into place by their highly trained crew. The team then put together a contingency plan with the local grounds keeping crew, training them on how to mount the system and explaining to them where to look for local advisories on storms, and how far in advance was needed to adequately put the plan in motion.
When the project was completed the General Manager of the Center, Ms. Maria Teresa Ledezma, was on hand to thank the team for all of their hard work and their donation to the children. She presented the Director of Hurricane Solution, Mr. Chris Rauton, with a formal recognition of their thanks for the donation of the system, by the local Government, recognizing her shelter as the first "Diamond Level Refuge" in the entire country of Mexico.
"One thing that Hurricane Katrina in New Orleans taught us is we have to be prepared. This is only done by careful planning and executing of the plan when needed. We can then mitigate the damages done by the storm and, most importantly, avoid loss of human life." said Mr. Rauton at the press conference after the presentation.
For more info on the local shelter, you can visit Shelter Playa del Carmen.
For more info on Hurricane Protection, you can visit Hurricane Solution.