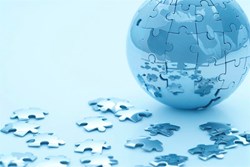 Learn how to gather all the pieces and complete your own puzzle.
(PRWEB) November 08, 2013
In a world full of unceasing challenges and time lacking, taking the first opportunity that passes by might not lead to a successful path in international trade. Taking the time to observe and analyze the full scope in order to assess whether all the pieces of the puzzle are collected, is a time consuming but extremely necessary task, when planning to move globally.
ITTC and export expert Igor Chigrin have prepared a series of 5 webinars with crucial information that will help to gather and complete business puzzles in a safe and efficient way.
Each 55-min webinar provides resourceful information and guidance; the trainer's approach is simple and focuses in practical aspects. Furthermore, the live participation of the trainer contributes to the interaction and dynamism of the sessions and makes each webinar unique.
The topics covered by these series are:
1) 10 steps to exporting your products.
2) Finding the right export market for you.
3) How to find a foreign agent, buyer or distributor?
4) How to build a successful export/import trading business from scratch?
5) Lessons from 10 Canadian export success stories.
A startegic game plan to develop or grow a competitive and profitable business in the international scene can be conceived with the knowledge and tools obtained from these webinars.
Register and let us show you how!
About the Trainer:
Mr. Igor Chigrin is an FITT certified professional who came across the International Trade business with over 10 years of experience practicing in the field.
Mr. Chigrin holds a Master in International Business, from Ecole Superior de Commerce de Grenoble, in France and is recognized as a Qualified Service Provider for Export Development Projects by the Australian Trade Commissionaire (Austrade) and the Canadian Manufacturers and Exporters (CME). He is a highly renowned expert in International Trade and Export Business Development worldwide and was featured in media such as Rogers TV, RTDS radio station, newspapers and FITT newsletter, etc.
Presently Mr. Chigrin is fully committed to promote and support the development of businesses towards the International scene through his consultancy firm Win Global Partners. His firm has carriedg out broad-range projects for relevant customers such like Embraer (Brazil), Precious Stones and Metals Import (India), Umbria Olii International (USA), Hines Aircraft and Quality & Company, Adastra, Coretomic and many more in Canada.
AbouT ITTC:
ITTC is a training institution specialized in international trade. It helps businesses become more profitable and efficient by offering online training of 55-minute or multiple-hour programs. Topics related to International Trade and Business Development are elaborated in depth and taught through dynamic and interactive online methods, maintaining the live presence of trainers, who care about personal approach with students.
Visit ITTC website and let us show you how!