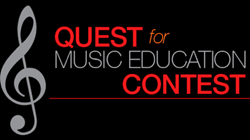 The contest offers a great opportunity for schools to improve their music departments and recognize Yamaha's dedication to music education. - Roger Eaton, Band & Orchestral marketing manager at Yamaha Corporation of America
Buena Park, Calif. (PRWEB) November 01, 2013
Yamaha Corporation of America is sponsoring the Quest for Music Education, an online contest that runs through November 16, 2013 and offers a total of $105,000 in prizes consisting of band and orchestral equipment for the music departments of winning schools.
To participate, a band director or other authorized administrator must register his or her school on the contest website to obtain a unique program code. Other participants can then sign up with their school's program code and complete quests to earn votes and increase the chances of winning.
Yamaha's quests cover a variety of topics, including Yamaha Artists, Yamaha Internships and Music Advocacy. Each quest underscores Yamaha's commitment to music education and contains several checkpoints, which usually begin by leading participants to a sector of Yamaha's website. By visiting that particular sector, participants will become familiar with content that will help them answer quiz questions and earn votes. Schools with the most votes win. For further information, please visit the rules page.
Each participant automatically receives a Rewards Profile that helps chart activity through the contest and track the quests completed. It also compiles the badges received and the overall coins earned. Contestants may use their coins to purchase select Yamaha products and transfer them to additional Yamaha competitions and sweepstakes.
Yamaha will award first place prizes of $20,000, second place prizes of $10,000, and third place prizes of $5,000 to three colleges or universities, three high schools and three middle or elementary schools, amounting to a grand total of $105,000 in giveaways.
"First and foremost, Yamaha is a music education company," said Roger Eaton, Band & Orchestral marketing manager at Yamaha Corporation of America. "The contest offers a great opportunity for schools to improve their music departments and recognize Yamaha's dedication to music education."
To enter, or view complete contest rules and regulations, visit http://4wrd.it/QME.
For more information, write Yamaha Corporation of America, P.O. Box 6600, Buena Park, CA 90622-6600; call 714-522-9011; email infostation(at)yamaha(dot)com; or visit http://4wrd.it/YAMAHAUSA.