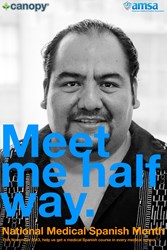 Meet me half way. Be part of National Medical Spanish Month.
New York, NY (PRWEB) November 04, 2013
To dramatically increase the number of bilingual healthcare providers, Canopy Apps is partnering with the American Medical Students Association (AMSA) to deliver medical Spanish curriculums at medical schools across the country. Canopy Apps was funded by the National Institutes of Health to create a series of online curricula that develop students' ability to communicate in clinical Spanish and become savvy to cultural customs that are critical to providing care for Spanish-speaking patients. So far, the Canopy Medical Spanish program powers nearly half of all such courses in US medical schools, including at institutions like UCLA, Duke University, and Michigan State University.
As part of National Medical Spanish Month this November, Canopy Apps and AMSA will coordinate events across campuses to promote the importance of medical Spanish training for future physicians. The month long event is part of the two organizations' campaign to install a medical Spanish course at every US medical school by the end of 2014, 173 schools in total. Currently, only about 30% of these schools have such a course.
In the US, nearly 20 million people speak Spanish as their only language, and that number is growing quickly. As the largest provider of language training to healthcare schools, Canopy Apps is meeting the growing demand from students and administrators alike for cultural competency training. Beyond academia, the organization also develops clinical tools that enable providers to instantly and effectively work with patients in a different language. Its Canopy Translator app for iOS is being piloted in nearly a dozen hospitals in over a dozen languages.
The creation of National Medical Spanish Month was inspired by the idea that improving communication between physicians and patients means improving care for millions of the most vulnerable and underserved. The new Canopy Apps – AMSA partnership will help give future doctors the skills necessary to make quality care more accessible for all.