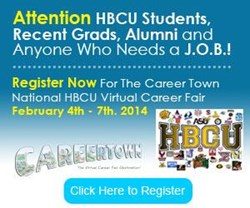 Through our promotional partnership with Tom Joyner, we will reach thousands of diverse students, alumni and graduates throughout the Country!
Columbus, Ohio (PRWEB) November 04, 2013
Career Town Network (http://www.careertown.net), whose solutions help employment professionals successfully and efficiently fill job openings, received a $350,000 investment from the Emerging Market Fund (EMF), which provides capital and connections to diverse, early stage high potential companies based in Ohio. The Columbus, Ohio-based company has created a low-cost, user-friendly virtual career fair software platform with built-in technology that provides recruiters with a more sophisticated way to organize, assess and match qualified candidates.
"This capital is going to help us advance our product at a pivotal point in our development," says Career Town Network's Chief Executive Officer, Orville C. Lynch, Jr. "The field of online recruiting is growing by leaps and bounds and we're focused on being a leader in that market."
Career Town Network offers an array of flexible, customizable solutions for employment professionals. The company presents its own Career Town-branded virtual career fairs—for which recruiters or hiring managers can then purchase online "booth space"—or provides other organizations the technical ability to host their own virtual career fairs. A Minority Business Enterprise, Career Town Network is also committed to helping businesses recruit talented candidates from a wider, diverse audience. To that end, the company recently formed a promotional partnership with the Tom Joyner Morning Show (http://blackamericaweb.com/career-town/) to create The National HBCU Virtual Career Fair Series, the largest event of its kind in the country.
Career Town Network plans to use the investment for product development and hiring employees. "Career Town has figured out a unique way to innovate within the traditional career fair market," says Lynn-Ann Gries, Chief Investment Officer for JumpStart, the EMF's General Partner. "Career Town Network has the right people in place to execute this idea. Orville is a dynamic leader with the experience and connections to take the company to the next level."
"Our team is excited by what lies ahead," Lynch says. "Career Town Network is ready to put this investment to work to help others discover their opportunities."
EMERGING MARKET FUND (EMF) The Emerging Market Fund provides capital and connections to diverse young, Ohio-based companies and has a focus on investing in very high potential, high growth tech-based companies owned by minority, women and inner-city-based entrepreneurs. The EMF is funded in part by Ohio Third Frontier.
CAREER TOWN NETWORK Career Town Network is in the business of helping employment professionals find qualified candidates and successfully fill job openings through the use of high-tech and nontraditional recruiting solutions and virtual career fair events. Career Town utilizes social networking and real-time tele-presence technology that provides a low cost, high-impact way for employers to connect and communicate with job seekers anywhere, at any time. To learn more, visit http://www.careertown.net.