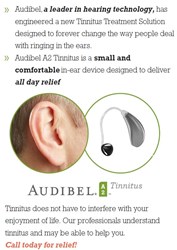 Gainesville, FL (PRWEB) October 31, 2013
Audibel Hearing Center introduces its new hearing aid, the Audibel A2 Classic. The sleek and sturdy new model is promulgated to give patients the advanced technology and control needed to increase comfort and functionality.
The Audibel A2 Classic is beneficial for a variety of different hearing losses. It can be fit up to 70dB and is available in six standard colors. It is also available in Start™ Classic 8 and 7. Inspire 2013.5 is required to fit the Audibel A2 Classic.
The Audibel A2 Classic utilizes a RIC 312, which increase comfort levels in three ways:

It offers a new rotary volume control, making it ideal for patients that prefer a traditional volume control mechanism.
The aid is smaller and more sophisticated than other models, which makes for a smoother transition for patients that are new to RIC (receiver-in-canal) aids.
Audibel's noise management system and feedback cancellation technology enhance hearing in all types of environments, especially particularly loud ones.
To learn more about the Audibel A2 Classic, contact your Audibel representative or visit https://audibelpro.com/usb/oct2013/index.html.
About the Company:
Audibel Hearing Centers is a one-stop hearing aid company. Audibel is a Starkey Hearing Technologies brand. Recognized across the globe as a premier provider of hearing healthcare, Starkey Hearing Technologies is the only privately held and American-owned company in its industry. At Audibel, they know the importance of hearing because they see how it impacts people every day. Helping people hear better is all that they do, and it's all they've ever done. Hearing is their passion, their focus and their purpose. From training, to the staff, to the products, to the offices, they go to great lengths to ensure excellence is in everything they do – so patients can be confident they'll get the service and solutions needed to make a real and lifelong difference. Audibel Hearing Center is dedicated to tailoring personalized hearing aid solutions to fit the unique needs of each of their customers. For more information on Audibel Hearing Center, please visit their website: http://www.audibel.com/.