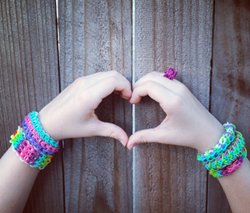 Everyone deserves a little rainbow in their heart. -- Mia LeRoux
Barrington, RI (PRWEB) October 31, 2013
In keeping with the spirit of National Philanthropy Day on November 15, Looms for Love, a charity created by 8-year-old Mia LeRoux that donates rainbow bracelets to area nursing homes and hospitals, will continue to work towards their goal of spreading rainbow cheer.
By donating these rainbow bracelets she embraces the current trends among her peers and uses them for a better purpose. Mia believes that "everyone deserves a little rainbow in their heart", and she doesn't seem to be slowing down one bit.
According to a new study from Women's Philanthropy Institute at the Indiana University Lilly Family School of Philanthropy, children are 20% more likely to give to charity if their parents discuss charitable giving with them. This study provides a now even clearer path for parents of young children to direct them towards helping those in need. There is no better time than the present to encourage children to see the positive impact they can make on someone else's life with a little giving.
Looms for love can be found online at http://www.loomsforlove.org and is very easy to get involved with or donate to. There is no better time than the present to embrace a trend all the children love and to use it to spread rainbow cheer. For more information you can email at info(at)loomsforlove(dot)org.
Looms for Love is a nonprofit organization, founded by 8-year-old Mia LeRoux, dedicated to spreading cheer in hospitals and nursing homes. We work towards rainbow cheer in two different ways. We work with local school children and community organizations to make rainbow colored crafts. Handwritten notecards accompany the items that are shared with kids in hospitals and seniors in nursing homes. We also raise funds to buy art supplies for sick children in hospitals, so they can enjoy creating their own crafts.
Contact us at http://www.loomsforlove.org or call us at 401.289.2600.