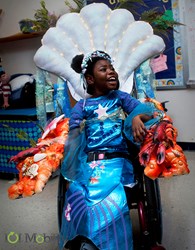 The parade draws out everyone—students, parents, teachers, members of the community—to celebrate something incredible.
(PRWEB) October 31, 2013
To watch the Halloween Parade on YouTube, click here. 101 Mobility became acquainted with Ms. Bishop's special needs class last year through Gloria Garton, Executive Director of the DisAbility Resource Center in Wilmington. From there, an annual event evolved. Ms. Bishop explains, "Last year's parade was great—I couldn't think of anything better. And then this year… it was somehow better. Ten times better. Not only did we have more time to put it together, but we had more time to get excited for it."
Ms. Bishop coordinated dates and times with the 101 Mobility team for months in order to measure and build quality costumes for each of them. The parade featured a cowgirl from the Wild West, a mermaid with an illuminated scalloped shell, a construction worker with a life-like Bobcat tractor, Batman himself in his stealth Batmobile, a flower child in a blossoming flower pot, and a pirate sailing the rough seas in his wood-planked ship.
The 101 Mobility team worked several evenings and weekends to turn a bunch of cardboard, spray paint, tubing, and lights into detailed custom costumes with 3D elements. "This day is a pretty big deal," said Codington Elementary Principal Eric Pfirman. "The parade draws out everyone—students, parents, teachers, members of the community—to celebrate something incredible."
Ms. Bishop's class is unique in that every child is non-verbal, and out of six, only one is ambulatory. These exceptional students defied the odds at birth and now live with developmental delays, mobility challenges, and medical conditions. Principal Eric Pfirman says that the students' anticipation for the Halloween parade spoke volumes."They [the kids] communicate their excitement very well, and all of them were smiling all day—no, all week—in anticipation for this day."
On Halloween day, 101 Mobility staff will follow behind the SDA-DL bus. At each stop, they will show parents how to properly secure costumes to their child's wheelchair or adaptive stroller for trick-or-treating.
###
About 101 Mobility
101 Mobility is the franchising world's first full-service sales, service, and installation provider of a complete line of mobility and accessibility products and equipment, including stair lifts, auto lifts, ramps, porch lifts, patient lifts, power wheelchairs, scooters and more. Short and long-term rentals are also available for home, office, and institution. By working with patients to identify which home health care devices best suit each individual's needs, 101 Mobility provides an alternative to group homes and rehabilitation centers by increasing accessibility and allowing clients to live self-sufficiently in their homes.
About Vanessa Bishop's Class: Specially Designed Academics – Daily Living
Ms. Bishop follows an adapted standardized curriculum known as the North Carolina Extended Standards. This means that every child in her class is taking standardized North Carolina tests and must be taught the same subjects as any other child in the same grade. SDA classes must make the curriculum adaptable for each of the students' unique needs by providing them with choices. For one blind student required to learn colors, Ms. Bishop utilized smelly markers for him to match to the color she would name. Ms. Bishop's favorite way to describe her SDA classroom is from a Hellen Keller quote: "A person who is severely impaired never knows his hidden sources of strength until he is treated like a normal human being and encouraged to shape his own life."