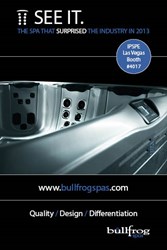 We're going to continue to push the limits of design and engineering...
Salt Lake City, UT (PRWEB) November 01, 2013
Bullfrog International, manufacturers of Bullfrog Spas luxury hot tubs, announced today their plans to unveil exciting new hot tub and spa concepts at the upcoming International Pool | Spa | Patio Expo in Las Vegas. The IPSPE runs from November 12-14, 2013. Bullfrog Spas will be displaying in space #4017 near the Main Entrance.
Bullfrog is following up last year's successful launch of their redesigned spa line and new patented technology with all new designs and concepts for 2014. Bullfrog Spas, recognized as one of the pool and spa industry's most innovative manufacturers, is promising to push innovation yet again with concepts that are sure to surprise and delight expo attendees.
Jerry Pasley, CEO of Bullfrog International, commented on 2013's success: "I've said, and numbers support, that our new line is the most uniquely designed product in the industry. We're very happy about how it has been received in 2013."
Pasley went on to discuss Bullfrog's upcoming innovations: "The new concepts we plan to unveil in Las Vegas this year show that we are not content to stand still. We're going to continue to push the limits of design and engineering to bring new and better products to market."
Bullfrog has a long history of innovation in hot tub engineering and design. Bullfrog first introduced their patented JetPak Technology in 1996 and has followed it up with EnduraFrame, a composite support structure that is precision molded and 100% wood-free. In 2013 Bullfrog introduced freshly styled hot tubs designed with the all new JetPak Therapy System, an entirely redesigned JetPak and plumbing system that replaces traditional plumbing with an ultra-efficient one-piece manifold. The JetPak Therapy System makes it possible to easily customize your Bullfrog Spa by easily changing jetted massages and further increases Bullfrog's legendary efficiency.
About Bullfrog Spas
Founded in 1996, Bullfrog International, is headquartered in the Salt Lake City, Utah metro area. Bullfrog Spas feature their patented JetPak Therapy System, removable and interchangeable jetted spa seats. Bullfrog's uniquely engineered eliminating hundreds of feet of tubing, creating a more reliable and leak-free system, and making spas much more energy efficient. In addition, JetPaks make Bullfrog Spas completely customizable by allowing the owner to choose their jetted massages and allowing these massages to be interchanged or upgraded at any time. Bullfrog International currently distributes, licenses, and retails its products in the United States, Canada, Australia, New Zealand, Asia, and Europe.
For questions on Bullfrog Spas call 801.565.8111 or visit the BullfrogSpas.com website.