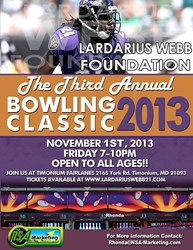 (PRWEB) November 01, 2013
Award-winning, regional pizzeria chain Pizza Boli's is sponsoring Baltimore Ravens player Lardarius Webb's Third Annual Bowling Classic. The event will take place November 1, 2013 at the Timonium Fairlanes from 7-10pm. Top management from Pizza Boli's will be present, interacting with children and local community members through friendly games of bowling. In addition, Pizza Boli's will be catering the event, providing pizzas, wings, salads, and breadsticks to more than 300 attendees.
The Lardarius Webb Foundation raises and distributes funds to provide aid to underprivileged children and their families. The primary purpose is to keep young men and women off the streets and out of trouble, by giving them the knowledge, confidence, and support to achieve any positive goals they set. Pizza Boli's Marketing Director Maroula Giannaros explains, "Pizza Boli's sees the importance of supporting groups which help the communities they serve." More information about the event, as well as instructions on how to donate to Lardarius Webb's Foundation, may be found on LardariusWebb21.com.
Pizza Boli's is an active part of communities across the Mid-Atlantic area. The very first Pizza Boli's opened its doors in the Baltimore, Maryland neighborhood of Mount Washington in 1985. Now the restaurant chain has 67 stores across Maryland, Virginia, The District of Columbia and Pennsylvania. It provides delivery service, party catering, and take-out. Some Pizza Boli's restaurants also have in-store dining areas.
About Pizza Boli's:
For more than 25 years, Pizza Boli's has been delivering award-winning dishes to an enthusiastic fan base. From the very beginning, Pizza Boli's wanted to deliver to its customers: MORE variety. Today, Pizza Boli's has successfully accomplished what other delivery pizza companies have failed to do: offering MORE variety of toppings and MORE menu items while maintaining MORE taste. With over 65 stores in Maryland, Virginia, Pennsylvania, and the District of Columbia, Pizza Boli's provides diverse menus for dining, home delivery and catering. In addition to pizza, it offers salads, pasta, wings, subs, strombolis and more. To see what Pizza Boli's can do for you, visit http://www.pizzabolis.com.