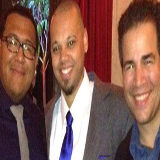 Newark, NJ (PRWEB) October 31, 2013
New Jersey and New York DJ company Seward Park Tech continues to shine as the best-rated Wedding DJ and Lighting company in the Northeast region as the praises and reviews in major Wedding outlets continue to pour in. One Wedding Wire bride writes about their lighting services "The ballroom at the Hotel turned out perfect! The lighting looked amazing ... we received so many compliments on the lighting and decor ... such a pleasure to work with." Wedding Channel is another major Wedding outlet for brides to state their experience with vendors, and one recent Wedding Channel Bride writes about her experience with Seward Park Tech's DJ Music services, "These DJ's were amazing! They brought great energy to our wedding and got people really excited to get on the dance floor." These numerous positive wedding reviews make Seward Park Tech a strong candidate to receive the Best of Weddings award for a second year in a row.
"These reviews makes us very positive about winning Best of Weddings and many other awards for yet another year in a row. A special thanks to the Brides that take the time to express their experiences online," says Kieffer Ramirez, President at Seward Park Tech.
Seward Park Tech is a DJ and Lighting company servicing the Tri-State area. Their Marquee DJs have years of experience spinning at the most elite night-clubs around the country, and the Lighting designers have designed the lighting and special-effects for numerous movies and theater productions around New York City. The lighting, special effects and music are combined to bring the magic of theater into weddings and other special events. Founded in 2010, Seward Park Tech has come a long way, earning dozens of 5-star reviews across the board and winning prestigious entertainment awards such as 'The Knot's Best of Weddings' and 'Wedding Wire's Bride's Choice Award.' Seward Park Tech is also a member of the very exclusive Style Me Pretty's Little Black Book. For more information, please visit http://www.w3ddingdj.com.