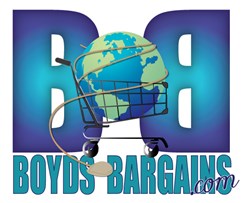 I can beat almost any price out there, especially on unique or hard to find items. We do quite well with security related products for the home and personal.
Falling Waters, WV (PRWEB) October 31, 2013
Online shopping is everywhere. Whether it's one of the internet giants or a big box brand that still has a local storefront, consumers with a need can find anything they want online. Regardless of the shopping site, all of the familiar ones have something in common; they are owned and operated by the big boys. The big boys decide the margins for consumers and then advertise, enticing them with "the lowest prices" or by creating the thrill of "winning a bid". After the purchase, many learn that the online deal usually isn't that much better than what's available at the local Mall. So why are consumers increasing their spending online? It's convenient, and you can get anything you want, when you want it.
In the internet age, it's become increasingly difficult for the little guy. A barrage of brick and mortar big box stores in Everytown, USA combining now with the steady stream of shoppers moving their spending online makes it nearly impossible for mom and pop retailers to compete. The margins simply aren't there to both market effectively and take care of a local store-front creating an increase in store vacancies dragging down many communities.
Many consumers miss a simpler past; where good customer service and a positive experience were always part of the sale. In the good old days, discount shopping was stopping at the local bargain barn or hardware store. The owner was your neighbor and most of the time, prices were fair. If not, you could look the owner in the eye and tell him about it.
James Boyd, a Vietnam veteran and retired entrepreneur had an idea. He wanted to build something as a family project; a business where his wife, children and grand-children could all be involved. He wanted Boyd's Bargains, a discount shopping store. "Old discount stores were wonderful", said Mr. Boyd. "There was nothing like an old five and dime where you could find anything. Those stores just don't exist anymore."
He didn't think building a brick and mortar was going to be the right business model, but he wanted something where local relationships and community still mattered. Everyone was online, but how could he compete? He decided to use some old fashioned business principles but with new technology. First, find the best value from the right product distributors. Make a store where the products were easy to find and where you could find an unusual variety. Offer straight forward pricing; no gimmicks or games. Make sure the customer experience is easy. Give some personal recommendations to consumers of products that are truly great deals. And finally, use the technology to save money; make it an online store, versus brick and mortar. If done right, the margins could stay low passing those savings to consumers with the hope of creating loyal customers.
BoydsBargains.com became reality. Consumers can find a variety of well-made products at prices that are truly a "bargain", and retailers can get a wholesale supplier with products that they wish to sell. There are no purchase minimums, bidding or games. "I can beat almost any price out there, especially on unique or hard to find items. We do quite well with security related products for the home and personal," said Mr. Boyd. "I've kept my overhead low so I don't have high margins. I won't make a lot of money off any sale and in fact, don't know how much this online store will make at all, but I do know this; as long as I can help families and small businesses get great deals, Boyd's Bargains will be open."
BoydsBargains.com is a discount shopping website that provides well-made products that can be ordered and delivered at a fair value. Consumers have the satisfaction of knowing that they are doing business with a loyal and trustworthy business owner whose main priority is to assure the well-being of the ones he loves by building a business brand that consumers rely upon and trust. There are "Featured Items", which get posted every month and "Hottest Selling Items" based on consumer purchases. Whenever "New Items" arrive, those are displayed on the home page for shopping convenience. Consumers will need to create an account when ready to complete a secure transaction, but the information provided is only used to communicate when necessary.
"I want to pass this business down from generation to generation," said Boyd. "If I create a solid foundation, it will allow my family to experience how hard work, honesty and a sense of accomplishment motivates and instills the confidence that is needed to become good citizens of the world. I invite anyone that reads this to visit BoydsBargains.com. Our store isn't fancy, but it's secure and has great prices."