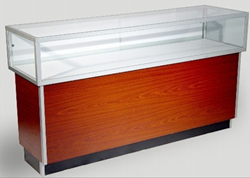 We think by reducing some of our prices, we can help make some of those dreams come true.
San Antonio, TX (PRWEB) November 02, 2013
ND Store Fixtures, a San Antonio-based retail business that serves a national clientele, announced today that it is now offering a series of online specials for its customers to help stimulate the economy. Tom Bhay, spokesperson for the Texas firm, said, "Reports show that we in Texas have been successful in recovering from the 2008 national economic setbacks, but business dealings in the rest of the country continue to be slow," he said. "However, our firm has positioned itself to allow other businesses to move forward by offering online price reductions on merchandise so businesses can afford to conduct and to stay in business."
According to Bhay, the firm sells high quality retail store fixtures such as glass displays at low cost across the nation. "We've targeted in excess of 60 different products that are eligible for online special pricing," Bhay said. "That includes gondola shelving and glass displays." Bhay said also included were clothing racks, acrylics, kiosks, display tables, gridwalls, slatwall displays, peg hooks, mannequins, jewelry displays and hangers.
"Things are pretty tight right now financially," Bhay said, "and we'd like to open the market up a bit to allow those who need enough of a break to be able to move forward with their business dreams and endeavors. We think by reducing some of our prices, we can help make some of those dreams come true," he said. The online discounts can be as much as 38%, Bhay said.
It was also said ND Store Fixtures was offering free shipping on orders over $1,599. "We're trying to do everything in our control to keep business operating," Bhay said. "We think our incentives via price reductions and reduced or free shipping will do just that."
ND Store Fixtures is located at 8711 Broadway, San Antonio, Texas 78217, and their phone number is 800-230-6373. They are proud to also carry the brand new Heavy Duty "SI" gondola shelving and retail display cases online.