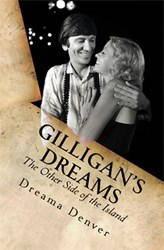 I was married for nearly 30 years to the man the rest of the world knew as Gilligan
(PRWEB) October 31, 2013
The iconic television series Gilligan's Island is shown somewhere in the world every hour of every day. Amazingly, the most famous "3 Hour Tour" in TV history is still sailing over 40 years later on primetime TV. Fans of the classic Castaways can now watch Gilligan's Island weeknights from 8:00 to 9:00 PM E/P nationally on the MeTV network, available to millions of subscribers across North America. New generations of fans are discovering the Castaways and the show's namesake Gilligan, a role that made the show's star Bob Denver one of the most famous television personalities of all time.
"I was married for nearly 30 years to the man the rest of the world knew as Gilligan," recalls Dreama Denver, author of the touching memoir Gilligan's Dreams; The Other Side of the Island. The book chronicles the behind-the-scenes story of the family life of one of television's most popular and enduring stars, who sadly passed away in 2005 (the "Dreams" of "Gilligan's Dreams" was Bob Denver's nickname for Dreama).
Dreama co-starred with Bob in several theatre productions, a Gilligan's Island TV movie, and in television pilot Scamps opposite Bob (and a young Joey Lawrence) for famed Gilligan's Island and Brady Bunch producer Sherwood Schwartz. She left her rising show business career behind to care for the couple's son Colin, who was born severely autistic. Bob Denver also soon left his lucrative television career to be a stay-at-home dad for Colin, walking away from the fame and fortune of Hollywood.
Dreama now oversees The Denver Foundation, helping the families of other special needs children. The energetic Ms. Denver also oversees http://www.bobdenver.com, where she keeps in touch with Bob's loyal fans from around the globe. She also co-hosts a show on Little Buddy Radio, an FM and online non-profit radio station owned and operated by the Denver Foundation.
Ask Dreama Denver about:

Her first reaction when she was cast opposite "Gilligan", and was told she'd have to kiss him in a romantic scene
Bob's battle with alcoholism that nearly ended their relationship before it really got started
Their age difference, her reaction to being the latest "fling" for Hollywood star Bob, and how that fling turned into a three decade marriage
The Denver's globetrotting lifestyle, living on the beaches of Hawaii, the mountains of Colorado, Las Vegas, the Santa Barbara coast and more before settling in…West Virginia?
How she and Bob reacted to the news of their son's autism, and how it changed their lives forever
Their visit to The White House to meet President Clinton, CBS Television's 50th anniversary celebration, being honored at The TV Land Awards and more
Bob's brave final days, and how Dreama literally had a heart attack caused by the stress of losing her husband
Hollywood's reaction to the death of Gilligan and tributes from around the world
How she feels about the rumored Gilligan's Island movie in pre-production
The misconception that famous Hollywood stars, especially from the past, are fabulously wealthy
Whether Bob ever resented being typecast as Gilligan
What she's most proud of in carrying Bob's legacy forward
Dreama Denver has appeared on dozens of major media outlets including television, radio, print, and online, and has been called "an energetic, entertaining guest."
For a reviewer copy of Gilligan's Dreams; The Other Side of the Island and to request an interview with Ms. Denver, contact Jessica Lloyd with Allen Media Strategies at (703) 589-8960 or via email at jessica(at)allenmediastrategies(dot)com.