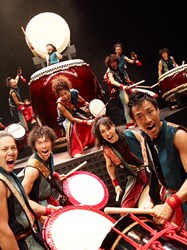 New Brunswick, NJ (PRWEB) October 31, 2013
State Theatre presents Yamato The Drummers of Japan - 'ROJYOH – The Beat on the Road' on Tuesday, November 26, 2013 at 8 p.m. This tour celebrates the drummers' 20th anniversary. Tickets range from $35-65.
On the road celebrating their 20th anniversary, the Yamato Drummers program is a thrilling, high-energy, explosive performance of Japanese taiko drumming. The mesmeric and dynamic performers play drums that range from the size of a plate to huge barrel-like Odaikos. The sheer physical strength and movement of the drummers is as impressive as the music, combined with exquisite bronze cymbals, vocals, and bamboo flutes, creating a kaleidoscope of sound.
Yamato was founded in Japan's Nara Prefecture in 1993. The troupe has given over 2,600 performances in 52 countries and regions. Every year, Yamato tours the world for 6 to 10 months, creating and presenting original Yamato compositions and stages. As a result of this relentless tour schedule, pursued over more than 10 years, audiences around the world await their arrival every year in growing numbers.
For tickets or more information, call the State Theatre ticket office at 732-246-SHOW (7469), or visit us online at http://www.StateTheatreNJ.org. The State Theatre ticket office, located at 15 Livingston Ave, New Brunswick NJ, is open Monday, Tuesday, Thursday, Friday, 10 a.m. to 6 p.m.; Wednesday 11 a.m. to 7 p.m.; Saturday, 1 p.m. to 5 p.m.; and at least three hours prior to curtain on performance dates, unless otherwise specified. For information on group outings and discounts, call 732-247-7200, ext. 517. Some additional ticket and transaction fees may apply.
State Theatre, a premier nonprofit venue for the performing arts and entertainment. The theater exists to enrich people's lives, contribute to a vital urban environment, and build future audiences by presenting the finest performing artists and entertainers and fostering lifetime appreciation for the performing arts through education. The State Theatre's programs are made possible, in part, by funding from the New Jersey State Council on the Arts/Department of State, a Partner Agency of the National Endowment for the Arts, and contributions from numerous corporations, foundations, and individuals. The Heldrich is the official hotel of the State Theatre. Magic 98.3 is the official radio station of the State Theatre. The Star-Ledger is the official newspaper of the State Theatre. United is the official airline of the State Theatre.
STATE THEATRE
15 Livingston Ave
New Brunswick, NJ 08901
Ticket Office - 732-246-SHOW (7469)
Online - http://www.StateTheatreNJ.org
PHOTOS AND INTERVIEWS FURNISHED UPON REQUEST
Please contact Kelly Blithe at 732-247-7200, ext. 542 or by email at kblithe(at)StateTheatreNJ(dot)org.
Up-to-the-minute information on events and State Theatre news, online at http://www.StateTheatreNJ.org.
# # #