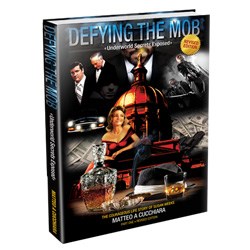 He warned me that if I wrote this book I'd be signing my death warrant.
Boyton Beach, FL (PRWEB) November 01, 2013
The book takes the reader on an espionage adventure filled with murder, kidnapping, corruption, dirty politics, human trafficking, drug smuggling, sex, prostitution, secret societies, the mafia inner circle members and secret affairs untold until now.
"It became unbearable to remain silent, and the pain of silence was devouring me from the inside out." For 27 years, I played dead and obeyed the silent punishment just to be able to breathe. Finally, at the risk of death, I decided to stop living in fear every day and chose to expose my bullies. I'd rather die exposing the evil force that continues to plague innocent people in the South." Susan Weeks
As a child, Susan Weeks was a sheltered, churchgoing girl who grew up in rural Rhine, Georgia to become the FBI's #00003 informant in the nation and put several mob members in jail. This first edition of a trilogy, reveals intricate details of Susan's once unparalleled, lavish lifestyle turned to ruin and disaster. Susan had to hide leaving no traces to stay alive. Her husband's closest mafia partner (the bully) found her anywhere she hid until she learned techniques of how to disappear off the grid. Weeks evolved to become fearless, choosing to confront her bully, even if it cost her life, and boldly decided to defy the mob throughout the years of hiding.
Her bully abusers were some of the most terrifying killers in the South. Discover how she rose from the depths of despair to find the courage to stop being a victim and fight back. She was the only female to be allowed into the Inner Circle of Mob gangsters. She was one of the few to get out alive targeting her as a dangerous threat.
"I promise Part II will expose the brutal, violent tyrant who once controlled my life with fear. I can no longer remain silent. Their bullying can only continue while their secrets are hidden. Once the world knows the extent of their influence and infiltration in every level of our country from our government to the smallest of rural communities to the business world, it will be more difficult for this criminal element to hide."
In Part II, Susan will share what gave her the strength to fight for her life every single day; to have the courage not to give up even with nothing; and what kept her determined to stand her ground against some of the most powerful Mafia in existence today.
Susan has contributed to changing laws for abused and incarcerated women. The rising trend of bullying and the resulting suicides worldwide has charged Weeks to act without fear! She has been an advocate for anti-bullying for many years while keeping a low profile. "Enough is enough," said Weeks. "How many more will have to die?" This was a daring write, but no one on this earth will bully me anymore unless they kill me first." Susan plans to use the proceeds of her bestseller and movie to help for abused and bullied women.
DEFYING THE MOB: Underworld Secrets Exposed has now been released worldwide. The book is available in paperback and ebook. You can order your copy at the publisher's website and major book sellers.
To contact Susan Weeks, go to her website and send your request, your name, phone number, a brief message and best time to contact you. She is available for interviews and keynote speaking.
###