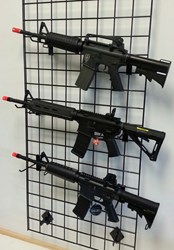 Nanuet, NY (PRWEB) October 31, 2013
New Breed Paintball and Airsoft's brand-new Nanuet, N.Y. store is now officially open. To celebrate this, New Breed Paintball and Airsoft will be holding a party from 11 a.m. to 7 p.m. on Saturday, Nov. 2.
The party, held at the Nanuet location at 350 Rt. 59 near the Palasades Mall, will feature free gear giveaways and discounts, as well as complimentary food and drinks. The shooting gallery will be open at the end of November.
This is the second store location for New Breed Paintball and Airsoft brand. The original location is in Fairlawn, N.J. The new location has all the paintball and Airsoft accessories customers want and will also includes pellet and BB guns. Full-repair services on paintball and Airsoft guns is also available. Customers can also sell and trade their used guns at the Nanuet location.
Store hours for the Nanuet location are 12 to 8 p.m. Monday through Friday, 11 a.m. to 7 p.m. Saturday and Sunday. The store is just minutes from the New York State Thruway, Garden State Parkway and other major highways in the area. More prizes and deals will be available from New Breed Paintball Nanuet in the near future.
Contact New Breed Paintball's Nanuet store by calling 845-507-0811 or visit http://www.newbreedpb.com. Both New Breed Paintball locations are leading retailers in the paintball and airsoft industries and offer expert sales and repair services. New Breed Paintball and Airsoft stores are the place for Airsoft guns, paintball guns and Airsoft and Paintball gun repair. Stop by one of their two locations today.
About the Company:
As paintball and Airsoft enthusiasts, New Breed Paintball and Airsoft knows what players need and love. Their team eats, sleeps and breaths this stuff. At New Breed, they pride themselves in having a large and diverse selection of paintball and Airsoft equipment. They not only sell the coolest toys, but fix them, too.