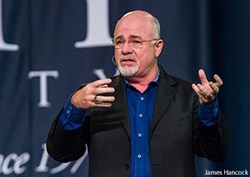 Lynchburg, Va. (PRWEB) October 31, 2013
Liberty University students had the unique privilege to hear from Dave Ramsey, one of the nation's leading experts in personal finance, in Wednesday's Convocation. Afterward, Ramsey shared his excitement from the experience on his radio program, "The Dave Ramsey Show."
Ramsey is a New York Times best-selling author of four books that have helped millions of people make sense of their life and manage their finances. He also has a nationally syndicated radio show that is heard on 500 radio stations across the country.
In 1992, Ramsey formed The Lampo Group to counsel individuals who are under financial stress. Liberty recently partnered with the company and has launched a free Financial Literacy course open to the first 5,000 students who enroll. It features instruction from Ramsey's Foundations of Personal Finance: College Edition on budgeting, savings, debt, and college essentials while integrating biblical principles. Liberty is the largest school in the country to offer this material and the only one offering it for free. Staff from Liberty's Financial Aid Office were available after Convocation to hand out information about the course.
According to President Jerry Falwell, Jr., Ramsey's message provided some of the most relevant and useful common-sense advice he has heard.
"Dave Ramsey echoed the teachings of Jesus to boldly rebuke Christians who are judgmental and envious and explained clearly how the Judeo-Christian work ethic made America the most prosperous nation in the history of the world," Falwell said. "Mr. Ramsey's speech this morning is one of my favorite Liberty Convocation messages of all time."
This was Ramsey's first time at Liberty. When he took the stage, he reminded students of a simple principle: "money is not the root of all evil," but rather, as the Bible says, the love of money is (1 Timothy 6:10).
He said antagonizing people who have become successful is a dangerous socioeconomic trend in our culture.
Ramsey told the students that on an average household income scale, most of them would be considered "rich." Americans today are the most successful group of people in the history of humankind, ranking in the top 1 percent of the world in annual income, he said.
He posed three possible views of wealth and possessions, using the lives of Martha, Judas, and Mary as seen in Luke 10:38 and John 12:21 — the spirit of pride (performance-oriented individuals like Martha); the spirit of poverty (individuals, like Judas, who think being wealthy is evil); and the spirit of gratitude (Mary, who was always thankful).
Ramsey said the spirit of gratitude is the proper spirit to have. When an individual starts understanding money and wealth with this spirit, they will learn what the Bible says and "get out of debt and stay out of debt," he said.
"My reaction, my gratitude, the way I say 'Thank you' is with the passion and with the excellence in which I handle all that (God) has given me to manage. When I am excellent, and I am faithful with the little things, He gives me more to manage," Ramsey said. "This is my best shot at being Mary. Because the Lord knows I have been Judas, I have been the one who said, 'There should be no one with a car that nice.' … I have operated with a spirit of pride. My goal, as I get to be an old man, is to more often operate with a spirit of gratitude … and I hope (after I am gone my children and grandchildren will say) 'He loved Jesus and he knew who owned his stuff. He was managing it for God.' That's the legacy I want to leave."
Ramsey's daughter Rachel Cruze will be the keynote speaker in Convocation on Monday, Nov. 4, at 10 a.m. in the Vines Center.
Ramsey's visit and free course is one of the many ways Liberty works to prepare its students for a better future, said Rob Ritz, vice president for Financial Aid.
"Proactive work like this in the past has already helped students," he said. "Liberty students borrow less in student loans than students do nationally. Additionally, Liberty's loan default rate is almost half of the national average. With lower average borrowing and better repayment, Liberty's long-term value is gaining more attention from families who want an affordable and top-quality private Christian education."
Following his visit to Liberty, Ramsey shared his excitement from the experience on his radio broadcast, "The Dave Ramsey Show."
"I spoke to 10,000 college students at Liberty University. Inspiring. That is all I can tell you. Inspiring young people," Ramsey said. "Got to meet several of them. … Excellent, smiling, intelligent, believing in the future, men and women of faith."
After visiting Liberty, Ramsey said he is optimistic about the future of America, which he said seems bleak when looking at what is taking place in Washington, D.C.
Ramsey said after visiting with Liberty students, which he called "the cream of the crop," he believes "we are going to be all right." He pointed to their "level of character (and) understanding of the vision of the future."
"They sure got their act together in ways I didn't even dream of at that age," he added. "I went there to talk to them and maybe instruct or inspire … but I came away the beneficiary of that trip. This nation has a future as long as there is stuff going on like (what is happening at Liberty)."
Listen to the full broadcast (Oct. 30, 2013) on Ramsey's website.
About Liberty University
Liberty University, founded in 1971, is the largest private, nonprofit university in the nation, the largest university in Virginia, and the largest Christian university in the world. More than 100,000 students attend classes on its 7,000-acre residential campus and study in its thriving online education program.