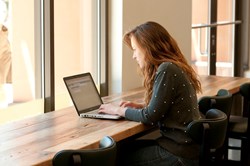 "Our technology and cutting-edge workplace design mirrors the way that San Franciscans want to work: on-demand, no commitments and commute free." - Brian Dice, CEO of Third Workplace
San Francisco, CA (PRWEB) November 12, 2013
Third Workplace, the global leader in technology driven, on-demand workplaces, is proud to announce the grand opening of their new San Francisco coworking space on Monday, November 4, 2013. Conveniently located on 4th and King St, the City's newest evolution in coworking space is located in Mission Bay between the Caltrain station and AT&T Park.
Third Workplace's new San Francisco location is in easily accessible, street level retail space. Comprising an array of private offices, conference rooms and an open workspace area that seats 30 people, mobile workers can choose an environment to best suit their work style. Third Workplace's unique design features include custom made reclaimed-wood tables, natural light, plants, and plenty of power outlets. Membership is free and both hourly and monthly options are available. The space is powered by proprietary technology that was developed to create an easy way for the community to drop in and work locally. "We are very excited to be opening up our first of many locations in San Francisco," said Brian Dice, CEO of Third Workplace. "Our technology and cutting-edge workplace design mirrors the way that San Franciscans want to work: on-demand, no commitments and commute free."
The new San Francisco coworking space joins the Third Workplace location in Walnut Creek to provide flexible work environments across the Bay Area. Users can choose to work in the open area workspace or private offices/conference rooms. Seats in the open area workspace are available on a drop-in basis without reservations, and private meeting rooms and offices can be reserved in advance online at http://www.thirdworkplace.com. Third Workplace includes all the tools necessary to conduct business without hidden fees or extra charges: 100 Mbps WiFi, print/fax/copy resources and even coffee.
For more information, please visit http://www.thirdworkplace.com.
About Third Workplace
A convenient and affordable alternative to a noisy coffee shop or a distracting home office, Third Workplace is the perfect way for commuters, mobile workers, small business owners and corporate citizens to enter a productive, professional environment.
Third Workplace was founded in June 2012 and offers two locations ideally placed near transit centers across the Bay Area. Third Workplace Mission Bay in San Francisco is located on 4th and King St. in between Caltrain and AT&T Park. Third Workplace Walnut Creek is located in the Contra Costa Centre transit village across the street from the Pleasant Hill BART station.