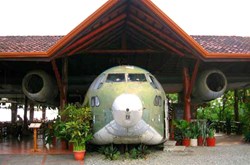 (PRWEB) November 05, 2013
Manuel Antonio, Costa Rica, is known as a boutique destination, with a variety of fantastic restaurants. There are more great restaurants in Manuel Antonio than travelers can hope to visit during a typical week's stay at their hotel or vacation rental property. As always, the restaurant scene is an ever-changing landscape. The VP Private Resort—one of Manuel Antonio's most spectacular vacation rental properties—provides its expertise on the finest restaurants in the area:
#1 – Kapi Kapi
Kapi Kapi is the place you want to save for your special night out with your significant other. With a warm atmosphere, great service and succulent food—it has remained one of the top restaurants in Manuel Antonio for years. (Dinner only)
Menu: Fusion, seafood
#2 – (Café) Milagro
Café milagro is not only a local coffee-roaster, but also a great café and restaurant. They serve great breakfasts, great coffee, and great dinners—with a smile. There is also frequent live music. (Breakfast, lunch, & dinner)
Menu: Café, fusion
#3 – Barba Roja
The Barba Roja is iconic in Manuel Antonio, and one of the oldest restaurants around. The food is great—but the atmosphere and views are better. It is the quintessential sunset venue, with a great happy hour and frequent live music. (Lunch & dinner)
Menu: Fusion
#4 - El Lagarto
With a rustic ambience, and open-fire grill, El Lagarto takes the prize for the best steaks in town. It also has great views. (Dinner only)
Menu: Steaks, fusion
#5 – Emilio's Cafe
A newcomer to the Manuel Antonio restaurant scene, Emilio's Café has taken the town by surprise. With a great location, great views, and even better food—it's one of those places not to miss. (Breakfast, lunch, & dinner)
Menu: Café, fusion
#6 – Victorias
Every town needs a great Italian restaurant—and Victoria's takes the pizza pie. With great pastas and pizzas, it is a perfect option to appease the whole family. (Dinner only)
Menu: Italian
#7 – Sunspot (Makanda)
Makanda is an adults-only boutique resort set in the rainforest, with a spectacular setting for their in-house restaurant, the Sunspot. It has a romantic atmosphere, and is the only place you can order drinks and hummus from the heated Jacuzzi! (Lunch & dinner)
Menu: Fusion
#8 – El Avion
Though it may seem strange to see a restaurant built around the fuselage of a huge, Fairchild C-123 bomber, El Avion has become an icon for the area. It has a great location, great views, and a warm, organic ambience. (Lunch & dinner)
Menu: Fusion
#9 – Gaia Hotel
The Gaia Hotel is one of the most expensive restaurants (and hotels) in the area for a reason. The views are great, and the food is elegant. It's also a great sunset venue, which happens to coincide with happy hour—drink specials, and great tapas. (Lunch & dinner)
Menu: Fusion, tapas
#10 – Dragonfly Thai
Who doesn't like Thai food? Set right on the main beach, Dragonfly Thai covers that ever-so-important niche for Asian food in Manuel Antonio. (Lunch & dinner)
Menu: Thai & Asian
Whether you are staying at a hotel or a private resort, there are plenty of great options in Manuel Antonio. Visit: ManuelAntonioRentalProperties/Restaurants for more information and options.