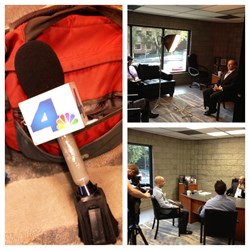 Los Angeles, CA (PRWEB) November 04, 2013
Los Angeles Channel 4 News sat with Edmond Haronian, owner of Haronian Insurance, to see how broken California's Obamacare website really is.
Haronian is one of a handful of Covered California certified agents in the San Fernando Valley. He is unique because customers who enroll through him avoid the state website, which has glitches similar to healthcare.gov.
Watch: NBC's exclusive interview with Haronian Insurance.
"Covered California's website is overly complicated. A new visitor takes 2 to 3 hours just to enroll. An experienced agent completes applications in a fraction of the time," Haronian explained.
In the meantime, Haronian uses paper applications for those who can't wait for website fixes. "Paper apps are an old school method. Web applications are supposed to be faster and easier, but at this point paper beats web," he told Channel 4.
Two "young invincibles" stopped by to buy health insurance, surprised by the sluggish site. 28-year-old Eddie Bardi, of DJ Eddie Entertainment brought his friend, 24-year-old Sharm Schaffler, who recently moved from Australia and hoped to experience the hype that is Obamacare.
Neither could apply on Covered California's website successfully. Bardi's account logged out after the site froze. Schaffler couldn't even create a profile without answering odd security questions like, "What is your birth weight?". "Is that seriously a question?" Schaffler chuckled, converting the metric system to American pounds in his head.
"No wonder no one applies from home," Bardi voiced. Haronian explained that is why agents are here: to help frustrated customers who don't want to deal with website glitches or long phone calls.
"We called over 2,000 people who qualify for tax credits and didn't even know it. People are excited but now the website isn't working to its full potential. I'm hopeful it will be fixed soon." Haronian reminded viewers, "Friends don't let friends go uninsured."
Open enrollment ends March 31st, 2014.
Haronian Insurance
7345 Topanga Canyon Blvd
Canoga Park, CA 91303
(818) 251-5000