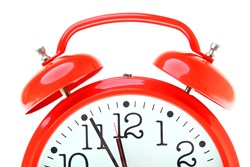 ...a 21-year study at Stanford and Johns Hopkins found a spike in traffic accidents following the beginning and end of daylight savings.
Newport Beach, CA (PRWEB) November 01, 2013
It's almost that time of year again. The days are shorter and the weather is colder as daylight savings come to an end. In the wee hours of the morning on Sunday, November 3rd, 48 of the 50 states, including California, will set their clocks back an hour.
During this time of year, we get to reclaim the hour we lost in the spring. A 25 hour day seems like a tantalizing prospect, but the sudden change can disrupt people's circadian rhythm leading to impulsive behavior, cognitive impairment, and slower reflexes. It isn't a surprise that a 21-year study at Stanford and Johns Hopkins found a spike in traffic accidents following the beginning and end of daylight savings.
The time shift also affects the light conditions commuters drive in. There is more light in the morning, but with shorter days, drivers, cyclists, and pedestrians will spend more time traveling in the dark.
Humans can see over a great range of light intensity, however, our ability to spot and judge the distance of objects deteriorates in dark conditions. The inability of drivers to notice or respond to pedestrians, bicycles, and other motor vehicles at night can lead to accidents and serious injuries.
By using common sense and following a few easy safety tips you can avoid most accidents the night will throw at you.
Car Safety

Check and repair your brake lights and turn signals. These safety features are essential to help you communicate with others on a dark road.
Clean your windshield and windows regularly to prevent glare and increase your visibility.
Leave a safe distance between cars. Increasing the distance between you and the car in front of you allows more time to respond to unexpected hazards.
Know how to use your headlights. On a clear night in the city you only need to use your regular headlights. High beams should only be used to illuminate an empty road; they will adversely affect other driver's visibility.
Never drive drowsy. According to the NHTSA every year over 100,000 car accidents are caused by drowsy drivers nationwide. Driving with a passenger and moving your eyes side to side will reduce your risk of highway hypnosis or falling asleep behind the wheel.
If your car stalls in the cool fall weather, carrying an emergency kit will help you take quick action to prevent a collision. Equip your car jumper cables, oil, bottled water, and emergency flairs in a nylon bag.
Wear your seatbelt. Two-thirds of people killed in car accidents at night weren't wearing a seatbelt.
Bicycle Safety
If you ride your bike to work, leave early or stay late. Avoiding rush hour traffic will decrease the amount time you spend riding next to cars in the dark.
Light it up! Use a wide array of reflectors and flashing lights to make sure drivers see you.
Don't use headphones at night. Headphones impair your ability to hear. Failing to respond to an approaching car or emergency vehicle may lead to an accident.
Use familiar routes. Riding streets you know well will allow you to focus your attention on the road instead of where you're going.
Pedestrian Safety
Whenever possible walk on the sidewalk. If there is no sidewalk available, always walk against traffic. Facing traffic will give you more time to respond to cars.
Cross the street in marked crosswalks. Drivers have poor visibility at night and have a hard time seeing and responding to jay walkers.
Closely monitor children around parked cars. Nearly half of all fatal pedestrian accidents involving kids 5-18 years old occur in low light or dark conditions.
Wear reflective clothing and flashing lights. Staying visible in the dark will make it easier for drivers to respond to you.
Make eye contact with drivers. Never assume it is safe to cross the street just because you have the right of way.
Most people are aware that a disproportionate number of traffic injuries occur after dark. Following these tips will help keep you safe at night no matter what mode of travel you take.
At Bergener & Associates, we are dedicated to spreading accident awareness and prevention. We hope you practice safe driving and enjoy the changing of the seasons.
We are Orange County personal injury attorneys. Bergener & Associates helps car accident victims throughout California obtain the settlements and verdicts they deserve.