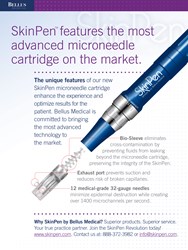 This is a crucial feature that not all automated microneedling devices have, but should.
Dallas, TX (PRWEB) November 01, 2013
Advancing its already popular SkinPen product, Bellus Medical has launched the most advanced single use disposable micro-needling cartridge on the market today. SkinPen is a medical grade, state of the art microneedling tool used to improve the appearance of acne scars, stretch marks, fine lines and wrinkles.
"Bellus Medical is committed to bringing the most advanced technology to market ensuring better patient outcomes for our practice partners," said Joe Proctor, President and CEO of Bellus Medical.
The new microneedling cartridges released today by Bellus Medical provide significant advances in microneedling technology:

Bio-Sleeve technology to eliminate cross-contamination
Exhaust port to prevent suction and reduce risk of broken capillaries
12 sterile 32-gauge medical grade steel needles to minimize epidermal destruction and maximize results
Single use disposable tip
"The Bio-Sleeve feature on the SkinPen microneedle cartridges is pivotal to the versatility, efficacy and safety of the SkinPen device. This component allows the clinician to perform a SkinPen treatment confident that no fluids can penetrate the cartridge and enter the body of the device itself, preventing any possible cross-contamination," said Dr. Thomas Hitchcock, PhD, and Scientific Advisor to SkinPen. "This is a crucial feature that not all automated microneedling devices have, but should."
Microneedling is a clinically proven, non-ablative skin treatment, meaning it allows for treatment to deeper parts of the skin without removing or damaging the top layers. SkinPen does this through controlled induction of the skin's self-repair process by creating thousands of precise and purposed micro injuries under the top layer of the skin within seconds. These controlled micro injuries trigger new collagen and tissue fibers to the treated area, as well as directing new blood flow to the skin. In addition, microneedling allows for temporary penetration of topical treatments to the lower layers of the skin where they normally have difficulty penetrating. The result of the treatment is the filling in of wrinkles, fine lines and scarring without damaging the top layer of the skin.
The procedure typically takes 30 minutes depending on the size of the area treated, number of areas and the severity of damage on the skin. After one treatment, patients see marked improvement in scars, wrinkles, skin discoloration, stretch marks, or large pores. More importantly, with the SkinPen microneedle, there is little or no downtime following the procedure. The new SkinPen micro needle cartridges are available today in skin care treatment centers across North America.
Like SkinPen on Facebook, follow on Twitter and watch a video.
About Bellus Medical
Bellus Medical was founded in 2012 to address a need in the medical aesthetic market for compelling, differentiated products that enhance the patient experience. Bellus Medical is home to innovative products and services for Aesthetic Medical Practices, including SkinPen Micro-Needling Device, STERiGLIDE Cannula and Capture Point Lead Generation Services.
Bellus Medical is committed to collaborating with our physician practices to ensure patients receive optimal results and have positive experiences with every treatment. For more information, visit http://www.skinpen.com, call 888/372-3982 or email info(at)bellusmedical(dot)com.