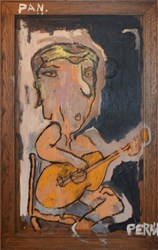 "Eric Perna is one of the most exciting new emerging Brazilian artists in South Florida. His broad range of talent and signature style was immediately recognized with a purchase by a major Miami Art collector," says Jeff Mustard, Perna's exclusive agent.
Miami, Florida (PRWEB) October 31, 2013
Working seamlessly between mediums, from "found objects" such as doors, kitchen cabinets and wood panels unearthed in discarded rubble that he transforms into exquisite, if not remarkable works of beauty, to large canvasses, Brazilian-born artist, Eric Perna is a uniquely talented man. Technically considered an "Outsider" artist, since he was not "formally trained," Perna's works, while hard to categorize fall generally into modern expressionism, meaning, he puts his own unique visual spin on the people, places, things, and objects portrayed in his work.
Born in 1975, and the second oldest in a family of 9, Perna's father was a sculptor and his mother a hair dresser. "Creativity and expressionism" was always around me, says Perna. Perna began painting in early 2000, while in his mid-20s, by 2005 he had produced hundreds of original works. "Every single piece of art I ever created was bought instantly," says Perna, mostly by designers, decorators, architects for residential use and public displays.
His inspiration? Family, friends, acquaintances – mother, father, wife, daughter, but they'd never know it as Perna's artistic interpretation exaggerates, stretches, distorts even the human anatomy and features - big heads, large eyes, short truncated bodies, exaggerated limbs, all add up to a signature style. A standing series in his collection he creates using "children" as his focus is called "Pernias," – mostly little girls, fashioned to a great degree after his own 7-year old daughter, Valentina, and are often seen with balloons.
This past year, many of his pieces were purchased by a collector in Delray Beach, Jeff Mustard, an advertising executive who is also an award-winning writer/producer/director. "I fell in love with his work and recognized his rare talent and brilliance immediately," says Mustard. After a number of meetings with Perna Mustard proposed that he officially "rep" Perna, who is now his exclusive agent, which has led to Perna's first installation at a major gallery in Miami, Artopia (1753 NE 2nd ave., Miami, FL 33132).
With hundreds of art lovers in attendance, and with 14 paintings on display alongside world renowned masters, a major Miami art collector and high-profile restaurateur purchased a Perna piece for $5,000. The artwork, a large piece, 65" x 42" titled Pan, a depiction of Perna's father playing a "mandolin size/style" guitar" is acrylic on a wood/door panel, is compelling, bold, playfully irreverent and distinctly Perna.
Perna's works vary in size and medium; from a 16" x 20" acrylic on canvass to a 76" x 27" acrylic on door frame. Each and every one of these is one-of-a-kind with prices ranging from $2,500 - $8,500. "There are no prints, lithographs, serigraphs or Giclees," says Mustard, "there is only one piece of art of everything he creates, making each and every one even more valuable and collectible."
With a number of private shows scheduled in the next few months, Perna's work will be featured in Artopia through Art Basel, serving as the world's largest platform to present the exceptional works of Brazil's latest emerging artist, Eric Perna.
Contact Info:
Jeff Mustard, Director, Florida Art Brokers | email: Director(at)FloridaArtBrokers(dot)com
Phone: 954.801.8263
Website: http://www.FloridaArtBrokers.com
Editors Note: A Media Center available for all credentialed journalists contains high resolution images of Perna's currently available work and sold work. Here is the link:
http://florida-art-broker.com/press-center/.