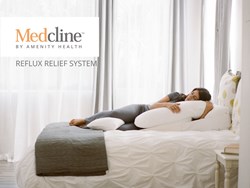 We are excited to share these clinically validated results with GERD sufferers who are in desperate need of a good night's sleep.
San Diego, CA (PRWEB) November 05, 2013
The Medcline™ - Reflux Relief System (Amenity Health, Inc.) is now validated as an effective method of treatment for gastro-esophageal reflux disease (GERD), based on a recently completed study. The results come at a time when both patients and healthcare providers are looking for a safe and effective alternative to commonly used GERD medications. Known for causing heartburn, GERD is a serious disease that can have long-term consequences and drastically affect one's quality of life.
Proton Pump Inhibitors (PPIs) are the most commonly used medications for the management of acid reflux. In recent years, PPIs have been linked to multiple serious and negative side effects. The FDA has issued several warnings about complications that arise with prolonged use, including the increased risk of contracting Clostridium difficile, a serious and potentially deadly bacterial infection, as well as a higher risk of hip, wrist, and spine fractures. The FDA has also warned about a possible connection to low serum magnesium levels. As recently as August 2013, a study suggested that PPIs may cause cardiovascular disease, which may also increase the likelihood of a heart attack.
The Medcline™ clinical study, completed by the Medical University of South Carolina, evaluated the effectiveness of the sleep positioning device at reducing nighttime acid reflux. The findings were presented during an oral presentation titled "A Novel Sleep Assist Device Prevents Gastro-Esophageal Reflux: A Randomized Controlled Trial" by Erik Person, MD, MS, at the October 2013 American College of Gastroenterology Annual Scientific Meeting. Person concluded that sleeping in the Medcline™ device, left-side down, "dramatically reduces recumbent esophageal acid exposure" and reduced number of reflux episodes.
For the randomized, controlled study, participants ate a standardized high-fat meal before going to bed and were assigned to either sleep with the Medcline™ system, on a traditional bed wedge or with no device. Over a six-hour period, both esophageal acid exposure and the number of reflux episodes were measured.
The study found the Medcline™ system to be significantly more effective when compared to a traditional bed wedge, particularly when sleeping on the left side:

esophageal acid exposure was reduced nearly eightfold
reflux episodes were decreased by 38%
Medcline™ was rated twice as comfortable
"We are excited to share these clinically validated results with GERD sufferers who are in desperate need of a good night's sleep," said Carl Melcher, MD, founder and CEO of Amenity Health, Inc. "We've been receiving very positive feedback from our customers for more than a year - since Medcline™ was made available to reflux patients. Now we have the data to support what Medcline™ users have been experiencing." Dr. Melcher struggled with GERD for decades, which led him on a mission to develop a sleep positioning device that would comfortably provide nighttime reflux relief.
The combination of sleeping both elevated and laterally is unique to the Medcline™ Reflux Relief System, which contributes to its being more effective than traditional wedge products or raising the head of the bed with risers or blocks. According to the study, patients are also more successful in maintaining a lateral sleep position with Medcline™ than those using a wedge or no sleep device. Without Medcline™, patients spend more time in a supine position which has been known to increase esophageal acid exposure.
The Medcline™ Reflux Relief System, available at http://www.medcline.com, is a Class I medical device listed with the FDA and cleared for patient use. Amenity Health, Inc offers a 30-day trial period during which the product can be returned for a full refund.
The results of the clinical study are available in the supplement version of the October 2013 issue of the American Journal of Gastroenterology.
ABOUT AMENITY HEALTH
Amenity Health, Inc., founded in 2010 by Carl Melcher, MD, provides innovative sleep solutions to help people get a good night's sleep and enjoy a higher health-related quality of life. Current product offerings include the Medcline™ Reflux Relief System, designed for GERD sufferers, and the Bump Nest™ Body Pillow, which helps pregnant women sleep comfortably and on their side as recommended by the American Pregnancy Association.