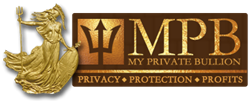 IRA Gold at Home!
Culver City, CA (PRWEB) November 29, 2013
Continuing the ongoing effort to be the most innovative and informative gold company in the industry, Private Bullion (MPB) announces today the ability to offer gold IRA clients the ability to store precious metals at home. This cutting-edge service is separate from, and in addition to, the more traditional approach in storing IRA gold at a depository.
Alex Viera, Managing Partner @ MPB says, "This service responds to the number one question asked by clients interested in converting their IRA to gold. Today's consumer wants to protect their IRA with physical metal, but they also want to be able to see and hold that physical metal, not have it stored thousands of miles away at a depository. MPB is leading the entire industry with this service. Just about every other gold company you talk to will shrug their shoulders and tell you this is not possible. Contact MPB to get the real facts about all the options."
Tom Kelly, MPB's sales manager and retirement plan specialist, puts it this way: "Practically any gold company can convert an IRA to gold, but it is all done the same. There is no innovation, no response to consumer demand, and no understanding of the rules regarding the asset protection. Get the facts about bringing the gold into an IRA or home today."
This announcement is part of an ongoing effort by MPB to change the way the gold industry operates by exposing its old and tired practices and offering new improved ways of servicing today's precious metals consumer. MPB will continue to offer more specifics in future announcements and releases. Check back often for more insight, specifics and revelations.
To learn more about retirement plan investing in gold and other precious metals, please visit http://www.myprivatebullion.com or call 310-912-3450.
ABOUT MYPRIVATEBULLION
At MPB, individual service, asset protection strategies and wealth management solutions are the foundation of our business. The company also believes that today's investors need a protection plan and a profitability plan that the rest of the precious metals industry is simply not providing.
MPB's specialty is finding specific coins for buyers that will increase over time, well above bullion coins of similar prices. The company's services include individuals, IRA's, 401K's and entire company retirement plans. MPB's commitment is to learn an investor's individual goals and objectives, and tailor personalized solutions to meet their specific needs.