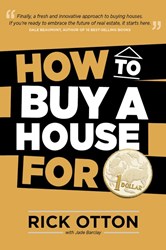 the thing which makes up a good investment is not the events which are currently happening in the market, but how you leverage and control your investment property
(PRWEB) November 01, 2013
"Market trends have always influenced when people should make a property investment, despite the eventual crash which follows every market high, and it's about time to change this process otherwise there's no way property investments can survive in a down market," said Rick Otton, the creative mind behind the best-selling finance book How To Buy A House For A Dollar.
A GPT executive shared in a recent report from The Australian on 10 October 2013 that the Australian property market is ready for a boom and bust, because of cheap debt and abundant cash supply.
The Australian also found in another report on 10 October 2013 that property companies are asking the help of investment banks in funding new real estate ventures around the country.
"The traditional process of investing follows a continuous and repetitive cycle of highs and lows. Right now experts believe that the market is at a high point, and they have forgotten that the market was at the same state before it crashed in 2007," Mr. Otton said.
"Despite what the market has gone through in the past years, a lot of people still believe that they should rely on the real estate cycle or market trends in figuring out if they will make an investment in the property market or not. This is because it's the only process we've been taught since we were young, and we've been so comfortable with it that we don't think of new ways to solve these problems," he shared.
"The truth is that you can't rely on market trends in determining if it's a good time to make a property investment or not, simply because there's no such thing as the perfect time to buy," Mr. Otton revealed.
He explained in the recent interview that "the thing which makes up a good investment is not the events which are currently happening in the market, but how you leverage and control your investment property."
"Good investors can make money whether the market is up or not, and this is possible with the help of creative real estate solutions," he added.
You can read more about Rick Otton's creative property strategies in his limited edition "Power Property Profits Pack." Go to http://www.howtobuyahouseforadollar.com/ to sign up for a free copy of the pack.
About Rick Otton
For over 23 years property millionaire Rick Otton has built an impressive real estate portfolio using innovative strategies that he has developed – strategies in which transactions are made without the need for traditional bank-type loans.
He constantly refines his techniques as he buys and sells properties through his We Buy Houses business which operates in Australia, New Zealand and the UK.
A gifted speaker and educator, Mr Otton conducts regular one-day free seminars across Australia, which build on the the concepts he shares in his 2012 book 'How To Buy A House For A Dollar', voted by Money Magazine and Dymocks Book stores as one of the Top 10 Most Popular Finance Titles for 2013.
He regularly records and publishes iTunes podcasts via his channel Creative Real Estate.
His innovative low-risk, high-reward approach to Australian real estate investing has been featured in a variety of television programs and magazines, including Today Tonight, Hot Property and Australian Property Investor.
To register for one of Mr Otton's free Australian one day seminars visit HowToBuyAHouseForADollar.com or phone, in Australia, 1300 888 450.