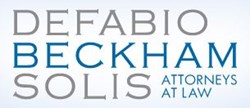 Miami, FL (PRWEB) October 31, 2013
This November, three attorneys and partners: Justin K. Beckham, Joel DeFabio, and Helmuth Solis of DeFabio, Beckham & Solis, a Miami criminal defense firm, will have the great honor of hosting a campaign fundraiser to keep Judge Richard Hersch, Circuit Judge, Group 69.
The campaign fundraiser is taking place on Tuesday, November 12, 2013 from 5:30 to 8:30 p.m. The fundraiser will be held at Pennekamp Law, P.A., which is located at 2811 S.W. 3 rd Avenue, Miami, FL 33129. To R.S.V.P., you can email keepjudgehersch(aT)gmail.com or if you are unable to attend, contributions are welcome at:
Committee To Keep Judge Hersch
6468 Manor Lane
South Miami, Florida 33143
Richard Hersch was appointed to the Circuit Bench in February of 2012 by Governor Rick Scott. He earned his bachelor's degree from FSU and his J.D. from the University of Florida Law School. He was admitted to the Florida Bar in 1980 and he has served in the Juvenile Delinquency Division since April of 2012. He is a member of numerous bar associations including the National and American Bar Associations, the Dade County Bar Association and the Florida Association of Women Lawyers. He has served on various committees including the Code of Rules and Evidence Committee and he is board certified in criminal trial practice. In 2002 and 2008 he was the recipient of the John Edward Smith Child Advocacy Award for his dedicated representation of abused and neglected children.
DeFabio, Beckham & Solis is a criminal defense firm located in Miami, Florida. With nearly 50 years of collective legal experience, the attorneys at the firm can defend all levels of cases ranging from simple assault or DUI to the most serious criminal cases including murder with powerful and aggressive representation. Over the years the legal team has received numerous recognitions, honors and awards that set them apart from other lawyers. To further illustrate, the team is comprised of a former Miami-Dade prosecutor, a 4th generation trial lawyer, and they have received the Avvo Clients' Choice Award for 2012. All three lawyers are among the Top 100 Trial Lawyers, and members of the team have an AV® Rating from Martindale-Hubbell® and have been selected for inclusion in Florida's Super Lawyers® and Rising Stars℠.
The attorneys at DeFabio, Beckham & Solis offer superior legal representation in both English and Spanish and can offer outstanding assistance in even the most complex criminal cases. If you are facing criminal charges and want a hard-hitting criminal lawyer on your side, contact the firm today by calling (305) 290-1912 or visit the firm's website online at http://www.dbsmiami.com.