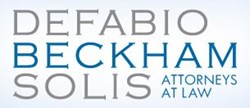 Miami, FL (PRWEB) November 01, 2013
The criminal defense law firm of DeFabio, Beckham & Solis requests the pleasure of your company at a fundraising cocktail reception being held in honor of their friend, the Honorable Migna Sanchez-Llorens. The event will be held on Wednesday, November 6, 2013 from 5:30 to 8:00 p.m. at:
Pennekamp Law, P.A.
2811 S.W. 3rd Avenue (Historic Coral Way)
Miami, FL 33129
If you are unable to attend this event but would still like to make a contribution, please make checks payable to: Campaign to Re-elect Judge Migna Sanchez-Llorens.
You can mail your donation to: CAMPAIGN TO RE-ELECT JUDGE MIGNA SANCHEZ-LLORENS at:
1500 Miami Center, 201 S. Biscayne Blvd. Miami, FL 33131
Please note that by law contributions are limited to $500 per person or entity, per election.
For more information on this event, please call (305) 860-4445.
Judge Sanchez-Llorens received her B.A. from Wellesley College and a Master in Economics from Trinity College and her J.D. from New York University School of Law. For over 14 years Judge Sanchez-Llorens worked as an assistance public defender in the state and federal court. While serving in the Public Defender's Office, she tried over 50 cases to verdict.
Judge Sanchez-Llorens devotes her time to addressing domestic violence issues affecting her community. Prior to her election in August of 2008, she had been appointed a board member for various state and county domestic violence organizations, including the Florida Coalition Against Domestic Violence; she was also appointed to the Miami-Dade County Domestic Violence Oversight Board. As a regular speaker on domestic violence issues, Judge Sanchez-Llorens has appeared on Spanish, English, and Creole radio programs designed to combat the effects of domestic violence. She has been awarded the "Women of Leadership Award for Government/Public Service" and she has received a "Proclamation of Appreciation" from the City of Miami Beach for her public service.
The legal team at DeFabio, Beckham & Solis appreciates Judge Sanchez-Lloren's admirable efforts to eradicate domestic violence through education and the attorneys at the firm are proud to host a fundraising cocktail reception in her honor since she is a highly respected community leader that exemplifies integrity and dedication to the community.
DeFabio, Beckham & Solis is a criminal defense law firm located in Miami, Florida. The attorneys at the firm have over 50 years of combined legal experience and have earned numerous accolades and honors of distinction including an AV® Rating from Martindale-Hubbell® and inclusion in Florida's selection of Super Lawyers® and Rising Stars℠. To contact the firm regarding your criminal matter, please call (305) 290-1912 or visit them online at http://www.dbsmiami.com.