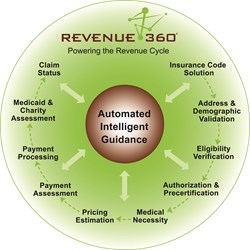 Shifting payment models and regulations are forcing hospital leaders to redirect previously launched budgets, priorities and strategic plans.
Beaverton, Oregon (PRWEB) October 31, 2013
Revenue360® recently received high rankings in the 2013 Black Book Revenue Cycle Management Survey, in the category of top RCM vendors in hospitals over 250 beds.
Black Book surveyed 3,700 healthcare financial executives, administrators, and managers at 557 hospital and inpatient facilities to assess revenue cycle outcomes across 18 performance areas of operational excellence, in order to rank vendors by RCM product lines. Hospitals use Black Book's report to identify the top 20 solution vendors in a category, and develop a short-list for RFPs when pursuing technology solutions.
About the motivation for the study, Doug Brown, managing partner, Black Book Rankings, explains, "Shifting payment models and regulations are forcing hospital leaders to redirect previously launched budgets, priorities and strategic plans to assess if new RCM solutions can rescue them from imminent hospital layoffs, even bankruptcies."
"We're pleased to rank so well as a hospital revenue cycle software solution. We have seen firsthand how revenue cycle management technology can really improve a hospital's cash flow" observes Edward L (Ted) Tomkins, President of Provider Advantage NW, Inc. — developers of the Revenue360 platform.
"It's equally exciting for us to see our partners, like QuadraMed - who support Revenue360 within their hospital information systems, make the top revenue cycle vendor list. By seamlessly integrating Revenue360 in the revenue cycle workflow, processes such as patient insurance and identity verification, and even out-of-pocket expense estimation deliver immediate ROI to hospitals of all sizes. There are significant changes coming with the Affordable Care Act. The ability to electronically interpret extensive data from health plans, hospital contracts and over 40,000 other data sources and provide on-the-fly intelligent guidance can help hospitals ease the impact of these changes on their bottom line."
The full research study, "BLACK BOOK RANKINGS 2013 USER SURVEY: Top Hospital Software Vendors, Revenue Cycle Management, Hospital Chains/Systems, Networks & ACOs," is available at http://www.blackbookrankings.com/healthcare/rankings-revenue-cycle-management.php.
About Revenue360®:
Revenue360 Helps Hospitals Get Paid Faster. By integrating public data into the healthcare provider's workflow, Revenue360 leads staff to higher point-of-service collections and prevents common errors, resulting in cleaner claims.
Providing customized guidance based on the user's business rules, Revenue360 simplifies complex processes including insurance coding, eligibility verification, address and demographic validation, medical necessity, pricing estimation, payment assessment, e-cashiering, and Medicaid and charity assessment.
Revenue360 reduces rework, increases and accelerates total revenue, and improves customer satisfaction through better patient communication.
Learn more at: http://www.revenue360.net
About Provider Advantage:
Since 1991, Provider Advantage NW, Inc. has been providing innovative products and services to access real time healthcare data. Provider Advantage develops, markets, installs, and supports electronic data interchange (EDI) technologies that allow organizations to obtain, utilize, and manage insurance data to generate operational efficiency and improve cash flow.
For more information, contact Provider Advantage NW at (800) 337-5482 or visit http://www.provider-advantage.com
Provider Advantage and Revenue360® are trademarks of Provider Advantage NW, Inc.
© 2013 Provider Advantage, Inc.
All Rights Reserved