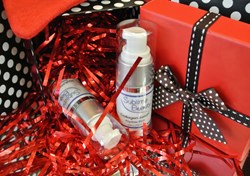 Get a great gift that he or she will appreciate and you will be happy to give! The lovely Sublime Beauty box with serums is on sale plus free shipping through Amazon.
(PRWEB) November 05, 2013
Sublime Beauty® is making gift giving easy this year. The company has paired its two most popular and effective serums together in a beautiful Christmas box. The short Christmas video embedded in this release shows this lively gift.
The beautiful box is sturdy and colorful with a bow on top. It is filled with red cello and the two serums are placed inside - so there is a nice double surprise when he or she opens the box.
The popular Sublime Beauty® Collagen Serum features the star peptide Matrixyl, which can double collagen production. Loss of collagen as we age is a contributing factor to wrinkles, sagging and thinning of skin.
The second product is the Hyaluronic Serum, which adds back plumpness and moisture to skin. Hyaluronic acid (which occurs naturally in the skin) works in tandem with collagen in nature, and the two serums blend perfectly together. Simply apply them to cleansed skin twice daily, followed by the day or night cream.
The lovely gift is available from Sublime Beauty® through Amazon at 20% off. Free shipping is available for purchasers, and of course Amazon Prime members have two-day free shipping. Sublime Beauty® offers a moneyback guarantee.