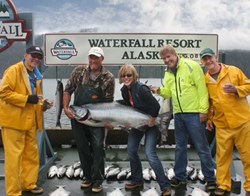 I couldn't believe my eyes when the creature caught my line.
Ketchikan, Alaska (PRWEB) October 31, 2013
Waterfall Group, the leader in all-inclusive sport fishing resort management, today announced the conclusion of a successful 2013 season with an unusually large, late-season 63.5 lb. wild Alaskan king salmon.
"Certainly we've seen larger kings during the June and July peak - several over 70 lbs. - but in more than a decade, we've not seen one this size in August," said Scott McKelvey, Operations Manager at Waterfall Resort.
Holly Cross Vagely of McLain, VA and three-time Waterfall Resort guest, caught the monster fish at SE Alaska's famous Pineapple fishing spot near Waterfall Resort.
"I couldn't believe my eyes when the creature caught my line," said Vagely. "My boat mates and guide yelled, 'Reel, reel! You can do it!' After a 30 minute focused and tiring fight, the beautiful fish thundered onto the deck. You don't come across a mammoth like that very often."
"Fishing here is always the envy of area anglers and visitors; this year was staggering," said Steve Cockrell General Manager at Waterfall Resort and nearby luxury lodge Steamboat Bay Fishing Club. "Not only did our guests break records, but fishing was so productive some called it a day at 2 pm to go sight-seeing, hiking, kayaking or to the Lagoon Saloon."
According to area fishermen, this southern region - just 90 minutes from Seattle - broke records in every category including king and Coho salmon, ling cod, snapper and halibut to name a few.
Waterfall Group is the leader in all-inclusive Alaskan fishing resort management. Founded in 1982, Waterfall Group properties are known for their unique destinations, warm customer service, expert marine crew and close proximity to the best fishing in Alaska. Welcoming more than 60,000 guests at its historic and luxury properties, Waterfall Group boasts an impressive guest return rate that includes multiple generations. http://www.WaterfallResort.com and http://www.SteamboatBay.com.
Contact:
Chuck Baird
Marketing Director
800.350.3474
chuck(at)waterfallresort(dot)com
Lynn Robinson
Marketing Specialist
lynn(at)waterfallresort(dot)com
800.350.3474