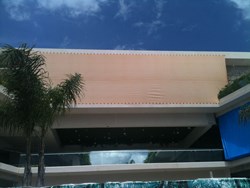 Playa del Carmen, Riviera Maya, Quintana Roo, Mexico (PRWEB) November 01, 2013
Hurricane refuges are a fact of life in Hurricane prone areas. There are two types: private refuges that are typically for a business, such as a hotel, to use during a storm to protect its guests; and public refuges where people who live in the most affected areas can go when a threat is imminent. Both types of refuges are regulated by the local Government, known as Civil Protection.
The designation of "refuge" has always been the same regardless of whether the refuge protected against the forces of a simple tropical storm, vs one that is designed to withstand the strength of a category 5 super-storm. That is until today.
For the first time an official Government Agency has recognized that a refuge protected with Hurricane Solution's system, imported directly from the US, as a cut above the rest. A new designation has been created just for this system. Today the first refuge, which was protected by a donation by the locally based company, Hurricane Solution was analyzed by the local engineering consortium. After reviewing the data on the strength of the system, officials presented the company with a plaque commemorating the first "Diamond Level Refuge" in the country of Mexico, creating a new classification of protection in hurricane refuges.
This tourism industry predicts that this distinction will prove to be a game changer in the Mexican Caribbean. Long known as the highest grossing tourism region in the country, roughly 7 million tourists flock to the area every year. Occupancy is the name of the game with the highest occupancy hotels being the most profitable. Now with a clear distinction between a refuge that is rated for a category 5 storm, and one that is only rated for a tropical storm, those tourists, consumers really, can now make their vacation decision based on real facts and not just a generic label.
Sara Andrade, tourism expert from Vacations In Playa agrees. "What we have seen over the last 24 months is a much more sophisticated consumer. They understand the value of what they are spending their money on much concretely than before. If one company is offering something that is heads and shoulders quality wise above the market, consumers will notice. We think long term an official certification that gives a potential client or renter a sense of safety over another resort, will result in a higher occupancy."
For more information on the only company rated a Diamond Level Refuge Provider in the Mexican Caribbean visit Hurricane Solution