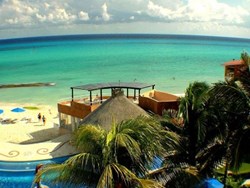 Playa del Carmen, Riviera Maya, Quintana Roo, Mexico (PRWEB) November 02, 2013
The pillars of the American Realty business model founded some 7 years ago were incredibly simple:
1. Transparency
2. Exceeding clients expectations
But transparency in a market that is well-known for not sharing information is not an easy thing to achieve. The Real Estate market in Mexico has a less than glorious past with a very complex set of steps needed to investigate if properties have clear title and a number of bureaucratic issues involved with transferring ownership to a mostly American based clientele.
"When we say transparency, we do not mean the market has gotten more transparent," explains American Realty manager Steve Copeland. "What we mean is we are transparent with our clients. If someone wants to purchase a property and we find out that there is an issue, we tell the client right away. There is no use to waste time on a property that is anything but 100% free and clear. This way, the client does not expect something that is not going to happen, and we can concentrate on the best quality stuff."
This week, American Realty received an award from Harvard Entrepreneurs, a group of over 5,000 Harvard University Entrepreneurs who voted it "Most Trusted Real Estate Company in Mexico."
"We are thrilled with this recognition," says Copeland. "To be singled out by such a prestigious organization as the Harvard Entrepreneurs just blows us away. It is like all that hard work finally means something."
For more information on Harvard Entrepreneurs, visit them at: http://www.hbs.edu/mba/student-life/activities-government-and-clubs/Pages/club-details.aspx?name=entrepreneurship.