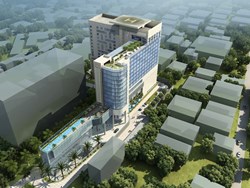 Irvine, CA (PRWEB) November 02, 2013
Another urban five-star hotel, designed by WATG, has opened its doors. Luxury hotel operator The Ritz-Carlton Hotel Company, L.L.C. has chosen Bangalore as its first location in India for many reasons. Bangalore is a significant and dynamic economic and cultural hub and the second-fastest growing major metropolis in India, boasting the highest concentration of IT companies in the country, alongside a mix of gardens, museums, temples, and palaces. With its pleasant year-round climate and growing economic base, the operator believes that Bangalore is a strategic destination to launch India's first Ritz-Carlton hotel. Luxury property developer Nitesh Estates owns the hotel.
The luxury hotel has 281 rooms, including one Presidential Suite and 26 executive suites. Guests can enjoy three restaurants; an ultra luxury spa and a techno gym-equipped fitness center, a club lounge and an extravagant roof top terrace with panoramic views, and a spectacular open-air hotel pool deck on top of the building. Located on an L-shaped plot in the heart of the central business district, the 16-storey property also features a helicopter-landing pad on the rooftop.
"The Ritz-Carlton was a remarkable design opportunity to conceive a modern luxurious hotel located in an urban city neighborhood that exemplifies both the extraordinary past and promising future of Bangalore," said Bradford McNamee, Senior Vice President at WATG.
Ritz-Carlton, Bangalore, may be the first of its brand in India, but not the first Ritz-Carlton designed by WATG. WATG has designed over 60 Ritz-Carlton hotels in 25 countries, and has recently been involved in Ritz-Carlton projects in Mexico, Indonesia, Panama, Morocco, Maldives, US Virgin Islands, and Taiwan.
About WATG
Over the course of the last six decades WATG and affiliated design studio Wimberly Interiors have become the world's leading design consultants for the hospitality, leisure and entertainment industries. With offices in Honolulu, Irvine, Istanbul, Los Angeles, New York, and Singapore, the full-service design firm is best known for creating internationally acclaimed destinations in 160 countries across six continents. WATG offers one-of-akind design services comprising planning, urban design, architecture, landscape, interior design and strategy for urban tourism and resort destinations. Many of WATG's projects have become international landmarks, such as Atlantis in the Bahamas and Emirates Palace in UAE.
WATG's projects are renowned not only for their design and sense of place but also for their bottom-line success. To view WATG's portfolio of projects, visit http://www.watg.com/index.cfm/view/projects-by-region. For more information about WATG, visit http://www.watg.com. Follow @WATG and @Wimberly_Int on Twitter.
Download photos here.