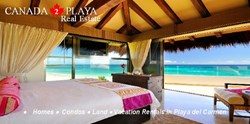 Playa del Carmen, Riviera Maya, Quintana Roo, Mexico (PRWEB) November 01, 2013
Canada2Playa, the only Broker in the Riviera Maya specializing in Canadian clients purchasing in Mexico, was recently named the official Canadian Broker for the Caribbean Living Project in Playa del Carmen, Mexico.
Caribbean Living is a project located in the new suburban area of Playa del Carmen. Just a stone's throw away from the largest mall in the Riviera Maya, and the new Super Wal-Mart, the area is well known to local brokers as the up and coming new neighborhood.
The project consists of roughly 700 condos and townhomes currently under construction. The smallest units being 2 bedroom well laid out units, and the largest ones being 2,000 + square foot townhomes with their own 2 car garage. The target market is the Canadian buyer, with special care taken to attempt to appeal exactly to them.
Leah Campbell, lead agent for Canada2Playa and a native of British Colombia, explains. "There is a disconnect between what the Canadian buyer expects and what the Mexican Market in general delivers. What we did with this project is work with the developer from the inception to make sure that we deliver what the Canadian buyer wants. Everything is built to Canadian Standard, the plumbers do the plumbing and the electricians do the electricity, just like back home. So many times people buy a unit and have no idea why things are constantly breaking, the reason is it was built wrong to being with, we make sure this was built right from the beginning, aye."
All this at a starting price of only $59,000 USD. But don't expect these prices to last. "Prices will go up as inventory is sold" says Leah, "that is a guarantee."
Canada2Playa not only works as a broker for its clients, but they also provide other services such as consulting on where to find the best appliances and how to ship down things that you can only get back home.
For more information on this project check out their website at http://www.Canada2Playa.com