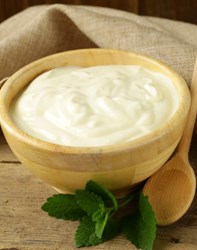 The power and versatility of Dairyblend SC-ASC is that it can be used for acid set or cultured sour creams and table creams, with either full fat or reduced fat levels. - Donna Klockeman, Ph.D, Sr. Principal Food Scientist for TIC Gums
White Marsh, Md (PRWEB) November 01, 2013
TIC Gums will showcase its innovative Dairyblend products at booth #1365 during the International Dairy Show in Chicago, Ill., November 3-6, 2013.
The Dairyblend line focuses on providing texture and stability solutions for the dairy industry, including yogurt, cultured creams, and organic products. Talk with our Gum Gurus® about Dairyblend SC-ASC, specially developed to manage texture and stability across the category of acid set and cultured dairy creams.
"The power and versatility of Dairyblend SC-ASC is that it can be used for acid set or cultured sour creams and table creams, with either full fat or reduced fat levels. The emulsifying functionality of gum acacia also serves as an alternative to mono- and diglycerides," said Donna Klockeman, Ph.D, Sr. Principal Food Scientist for TIC Gums. "This wide range of applications makes Dairyblend SC-ASC a valuable multipurpose ingredient."
TIC Gums will also showcase Dairyblend YG DP-2, a stabilizer system that provides thickness, spreadability and syneresis control in cold processed and instant dips. Stop by booth #1365 and let our Gum Gurus® demonstrate the versatility of Dairyblend YG DP-2 in a Cucumber Yogurt Dip we have prepared for attendees and guests.
This formulation as well as sour cream formulations using Dairyblend SC-ASC is featured in the Technically Speaking Formulations for Cultured Dairy Products white paper. If you would like a copy, please visit booth #1365 at the International Dairy show or http://www.ticgums.com/ids13.
###
About TIC Gums: TIC Gums is a global leader in advanced texture and stabilization solutions for the food industry. Food and beverage companies rely on TIC Gums to improve the texture, stability, consistency, nutritional profile, and shelf appeal of their products. Legendary customer service, high quality standards, and the unrivaled knowledge of our Gum Gurus® have made TIC Gums the industry leader for more than 100 years.
If you would like more information about TIC Gums, or to schedule an interview with Erica E. Elliott, please call (410) 273-7300 ext. 3467 or email eelliott(at)ticgums(dot)com.