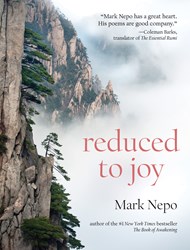 (PRWEB) November 01, 2013
Mark Nepo, author of the bestselling Reduced to Joy, wrote an article recently for Oprah.com on "What To Do When You're Broken." As Nepo says, "Though no one likes it, each of us will find ourselves broken at some point in our journey." However, the lesson he continues to learn from this is, "every time my heart has been shattered, I have felt certain that it could never be put back together. And every time, without exception, not only has my heart mended but it has become larger, stronger and more loving for the breaking."
Mark Nepo offers his wisdom and strategies for recovering from tough times that include accepting the ups and downs, and looking "beyond the broken."
"I've come to believe that we were all broken from the same nameless heart, and every living thing wakes with a piece of that original heart aching its way into being. Along the way, we are broken open like seeds that bear fruit, so we can meet each other and be touched by each other; so we can remember and inhabit the one precious life we're given. And when broken of all that gets in the way, we suddenly know each other below our strangeness. This is why when we fall, we lift each other; or when in pain, we hold each other; why when sudden with joy, we dance together. Life is the many pieces of that great heart loving itself back together."
Mark Nepo will be appearing on Oprah's Super Soul Sunday on November 10th and November 17th to discuss his newest work, Reduced to Joy, and the themes behind it.
Join Mark Nepo at events in the San Francisco Bay Area in December. He will be appearing at Books, Inc. Opera Plaza, San Francisco on 12/4, Book Passage Marin, Corte Madera on 12/5, and Pegasus Books, Berkeley, on 12/6.
Reduced to Joy
By Mark Nepo
Mark Nepo, the New York Times bestselling author of The Book of Awakening, has been called "one of the finest spiritual guides of our time," "a consummate storyteller" and "an eloquent spiritual teacher." Now in his sixties, he has written Reduced to Joy, a book of seventy-three poems about the nature of working with what we're given till it wears us through to joy. Nepo says, "Poetry is the well from which all my books rise. It's where I always go to listen, always stunned by what arrives. I bring these poems back from the deep like shells from the sea that we can look at together." Profound and accessible, Nepo's poems are tools for staying close to what matters.