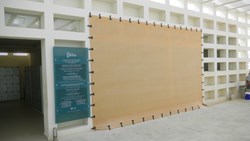 Cancun, Quintana Roo, Mexico (PRWEB) November 01, 2013
The ancient Mayans built some of the most spectacular monuments in this hemisphere. Over the last 200 years or so, archeologists have made incredible finds that shed light on this period of history that was lost for so long. Recently a new museum opened in Cancun to house some of the most important treasures from this time period, and they have taken the necessary precautions to make sure they will be with the world for a long time to come.
The history of the Mayan Museum in Cancun has a lot to do with hurricanes. In 2005 hurricane Wilma came through the area just as the museum was beginning construction. The building was severely damaged, to the point where some buildings had to be torn down and started over. Now nearly 8 years later the museum has finally been completed. But due to its own history of damage, the first item of business from the Government was to find the strongest system possible to protect these priceless artifacts.
There was an open competition with every solution provider in the country invited to participate, judged by the same engineers that built the actual museum. In the end there was only one choice, Hurricane Solution was chosen to protect the entire area, based on the superior level of protection it provided.
"We are thrilled to have done this job" says lead installer Gilbert Guzman. "The fact that we are protecting the very history of the Mayan World means so much to us. We hope that these artifacts are a part of Mexican and Mayan history, forever.
For more info on the museum please visit:
http://cancun.travel/en/2012/11/09/cancun-welcomes-its-very-own-maya-museum/
http://www.tripadvisor.com/Attraction_Review-g150807-d3611698-Reviews-Museo_Maya_de_Cancun-Cancun_Yucatan_Peninsula.html