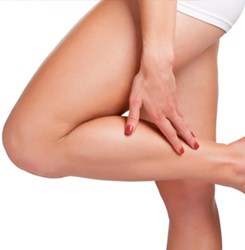 While issues like varicose veins may be easy to ignore, they signify problems happening in the circulatory system.
Winston-Salem, N.C. (PRWEB) November 02, 2013
Novant Health Vein Specialists is launching a new campaign to provide public health education on the advanced stages of venous disease. The Winston-Salem based vein center is turning to social media to help get the word out on the dangerous complications associated with long-term vein issues in an effort to help patients reduce their risk of developing serious health problems.
Dr. Ray Workman, a leading vein doctor at Novant Health Vein Specialists, encourages the public to pursue prompt treatment for vein disease. "While issues like varicose veins may be easy to ignore, they signify problems happening in the circulatory system. If these problems are not addressed they can lead to complications like ulcerations and blood clots."
Modern vein treatment techniques are quick and minimally invasive, allowing patients to avoid the advanced stages of vein disease without hassle or discomfort. An hour long procedure can eliminate the risk of vein issue progression.
Novant Health Vein Specialists hope the information they provide in their newest campaign will encourage the public to take vein issues seriously. The vein center will utilize Facebook and Twitter to distribute information relevant to their campaign.
For more information, visit http://salemveins.com.
Varicose Vein Treatment Options
Varicose veins and spider veins are extremely common in men and women. While spider veins are very small, reddish veins on the surface of the skin, varicose veins are much larger, bulging, tangled veins that may appear bluish in color. Men and women suffer from varicose veins, although women are much more likely to have them.
Today, patients have access to a number of effective varicose vein treatment options. Advancements in technology and medicine have led to the development of effective, minimally invasive treatments that produce optimal results with few side-effects or downtime. These treatments include sclerotherapy, radio frequency ablation, phlebectomy, and endovenous laser ablation.
About Novant Health Vein Specialists
Novant Health Vein Specialists is Winston-Salem, North Carolina's foremost provider of customized, state-of-the-art care for vein disorders. Their expertly trained and caring team of health professionals is dedicated to providing patients with the highest quality of vein care. The center offers advanced and minimally invasive therapies to treat a wide range of vein conditions. Dr. Ray Workman leads the medical staff. He and his 5 partners, Dr. R. Bradley Thomason, Dr. Steve Motew, Dr. Phillip Moore, Dr. Joel Deonanan, and Dr. Shawn Fleming are all board certified in vascular surgery by the American Board of Surgery. They are board certified vascular surgeons offering full service vein treatments in Winston-Salem, including sclerotherapy, ambulatory phlebectomy, endovenous ablation, venous stenting, complex venous ulcer management, and pelvic congestion syndrome.
Novant Health Vein Specialists
http://salemveins.com
Tel. (336) 791-4010