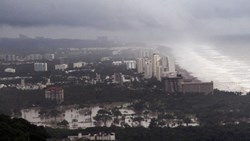 Playa del Carmen, Riviera Maya, Quintana Roo, Mexico (PRWEB) November 01, 2013
No hotel owner likes the idea of a hurricane damaging their hotel and injuring their guests. Trees in the lobby and guests in the hospital are just not good for business. But if you live on the Caribbean coast, especially in the recently hit zones in Acapulco, Ixtapa or Puerto Escondido, hurricanes are an unfortunate part of nature. The only thing that can be counted on for sure, is another one will eventually follow. What many owners are finding out now is the cost of the deductible from the insurance combined with the lost revenue from being closed for so long is simply too much. Many hotels in these areas are have gone out of business in the last two months.
With these eventualities now becoming more and more real there has been a surge in the amount of sales in these areas. Leading the way is Hurricane Solution, the provider of the strongest hurricane protection system on the planet.
Hurricane Solution warehouse manage Gil Valentin gave us some perspective. "Normally this time of year we are replenishing our supplies for next year, but it is all we can do to keep stock to supply the other regions of the country. There is only one answer, we must set up in other parts of Mexico."
Look for big things to come from this industry next year.