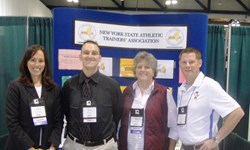 NYSATA is happy to serve as a resource for concussion awareness and management, such as the development of appropriate protocols.
Rochester, NY (PRWEB) November 05, 2013
The New York State Athletic Trainers' Association (NYSATA) has come full-circle with its current public outreach initiative by again operating an educational exhibit booth at the New York State School Boards Association (NYSSBA) conference in Rochester, from October 24-26, 2013. NYSATA began their public awareness campaign to promote sports safety and quality healthcare for student-athletes one year ago at the NYSSBA Expo – and this year went a step further by adding a general session presentation to their efforts. The Friday, October 25 morning session, entitled, "Developing a 'Return to Academics' Protocol following a Concussion" included background information about why academic adjustments and psychosocial considerations are essential as part of a comprehensive concussion management plan – for athletes and non-athletes alike. Various suggestions and samples were offered to the audience, as well as information on the role of the administrator in the concussion management process and the value an athletic trainer can add.
"We were thrilled to have the opportunity to present at the NYSSBA convention. As schools adjust to the needs of the concussed student, we are happy to help educate school board members about the various considerations surrounding this important topic and offer our services as Athletic Trainers as resources to developing the appropriate protocol," says NYSATA President-Elect Aimee Brunelle, MS, ATC, EMT and co-presenter of the NYSATA session. "ATs can be pivotal in maintaining a high level of awareness, education, and communication with school nurses, physicians, counselors, teachers, coaches, school administrators, and parents."
The focus on academic considerations following mild traumatic brain injury is undoubtedly important, but also proved extremely timely with the release of a new American Academy of Pediatrics (AAP) study on the same topic just two days after NYSATA's presentation at the NYSSBA conference. Published in the November 2013 edition of their journal, Pediatrics, the article, "Returning to Learning Following a Concussion" was released online on October 27, 2013. Co-author of the study, Karen McAvoy, PsyD, who is the Director of the Center for Concussion at the Rocky Mountain Youth Sports Medicine Institute (CO), also authored a community-based concussion management program for families, schools and medical professionals called The REAP Project. REAP, which provides a comprehensive concussion management protocol including physical and cognitive aspects, is one program that NYSATA recommends and promotes and was discussed in the NYSSBA conference presentation.
Another thorough Return to Academics Protocol that NYSATA endorses was developed in NYS by the Three Village Central School District and Orthopedic Associates of Long Island. With input from both medical providers and school officials, including teachers and guidance counselors, they developed a comprehensive academic adjustments checklist form as part of their concussion management protocol. The process, which took roughly 20-plus hours over the course of four months, helped overcome terminology barriers between the medical professionals and educational personnel, as well as helped teachers understand the impact of concussions on academics and vice-versa, including cognitive function, classroom environment, and symptom resolution. Jennifer Chimienti, MS, ATC, athletic trainer at Ward-Mellville HS in the Three Village CSD supplied NYSATA with the background information on their thorough and collaborative process.
The Centers for Disease Control (CDC) has also added a "Returning to School After a Concussion: A Fact Sheet for School Professionals" document to their repertoire of 'Heads Up' concussion materials, for which McAvoy and lead author of the new AAP study, Mark E. Halstead, MD, FAAP are contributors. This is part of their Heads Up to Schools: Know Your Concussion ABCs series, which accompanies similar CDC Heads Up toolkits for Concussion in Youth Sports, High School Sports, and Brain Injury in Your Practice for physicians.
Aside from the extreme interest in academic considerations following a concussion generated by the presentation, another common area of conversation at the exhibit booth was what schools or districts without a certified athletic trainer (AT) do to monitor and manage student-athletes with concussions and other sport-related injuries. New statistics support that just over 60% of schools nationally have access to an AT – up about 18% from 2005 – but in NYS this number is far fewer than 50% (NATA News Aug./Sept. 2013). In most cases, the school nurse(s) assumed this role within the school, but with national statistics showing that 47% of schools have less than the recommended nurse-to-student ratio (National Association of School Nurses (NASN) 2008 Survey; Youth Sports Safety Alliance (YSSA) stats) and school nurses not being required in NYS, it is unclear how many schools may completely lack in-house medical or healthcare personnel to be at the hub of this process. In contrast to these statistics, two neighboring states, New Jersey and Pennsylvania, have well over 85-90% of schools with access to an AT.
"As we have noted in the past, it's becoming more and more evident that athletic trainers and schools, regardless of size, need to work collaboratively to help keep student-athletes safe and healthy," says Kristy Hart, MS, ATC, CSCS, NYSATA's Public Relations chair and NYSSBA co-presenter. "Many people are not aware of the various ways to gain access to an athletic trainer and that, besides direct care, ATs can be a valuable resource to help schools create comprehensive injury management plans. Additionally, various sources outside of athletic trainers are beginning to reiterate the sentiments that we have noted for some time: If a school is unable to provide appropriate safety measures for their student-athletes, including a qualified healthcare provider such as an AT and proper sports safety equipment - which is possible in a fiscally reasonable way - then maybe they should reconsider offering collision sports."
In addition to Brunelle, who is the AT at Jamestown Community College, and Hart, who works as a per diem AT in the Rochester area, the NYSATA exhibit booth was manned by Jarett Rhoads, MSEd, ATC, CSCS, of Eastridge High School (East Irondequoit) and Phil Steckley, MS, ATC, CSCS of West Irondequoit High School.
NYSATA, founded in 1976 and incorporated in 1989, stands to advance, encourage and improve the profession of athletic training (AT) by developing the common interests of its membership for the purpose of enhancing the quality of healthcare for the physically active in New York State. Comprised of over 1,200 certified and practicing athletic trainers, NYSATA is the state-wide affiliate of the regional Eastern Athletic Trainers' Association (EATA) and District Two of the National Athletic Trainers' Association (NATA).