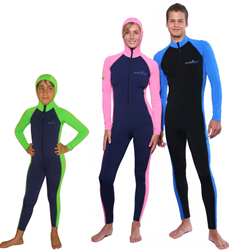 Full body stinger swimsuit can help protect the skin against the sun UV radiation and avoid sunburn and skin cancer.
Traverse City, MI (PRWEB) November 02, 2013
Stinger suits are especially made sun protective clothing sunsuits designed for the best skin protection against UV radiation when in the water, on the beach or enjoying water sports. They are one piece full body swimsuit with long sleeves, long legs, and high neck, made from swimwear fabric and mainly used in warm or lukewarm waters (not to be mistaken with wetsuits or dive suits which are made from neoprene and rubber fabric and usually used in cold waters or for deep diving). Stinger suits were originally designed for protection against jellyfish stingers which can give a nasty sting and in rare occasions be deadly. The new generation sun protection full body stinger suits are made from superior quality sun protective swimwear fabric which is UPF50+, light weight, chlorine resistant, durable with lasting colors and elasticity, breathable, soft silky touch on the skin and fit like a second skin for comfort and best function. These suits are very comfortable to wear, almost feel like second skin, and can be used in ocean or sea waters and chlorinated pools. In comparison the old generation suits were made from Lycra, Nylon or Spandex material which disintegrated when used in chlorinated or sea waters, lost elasticity and colors faded after several uses.
EcoStinger sun protection swimwear is offering 30% Off new generation stinger suits and dive skins for women, men, kids and juniors, starting from size 2 for children and up to size 3XL for adults.
Why need a full body UV Swimsuit?
Different weather conditions have different effects on the skin. Sun protection is essential during summer as much as moisturizing is during winter. Just as the body needs different clothing to protect it against the changing weather, the skin needs a different sun protection to properly protect it from the harsh elements. As the body's largest organ, skin is far more delicate than you probably realize. Exposure to the sun UV rays can lead o excessive skin damage, sunburn and worse skin cancer.
Tips for sun protection and healthy skin during summer months:

Always protect your skin from the effects of ultraviolet radiation by applying sunscreen at least SPF30+, wearing sun protective clothing at least UPF50+, and seeking shade whenever possible.
Stay out of the sun when it's strongest, between 10:00 am and 3:00 pm.
Wear wide brim sun protection hat to protect head and neck.
Wear approved sunblock sunglasses to protect eye all day long.
Always rinse your body with cool water after swimming to remove chlorine and salt.
A facial mask applied once a week will deep-clean pores and help skin retain its natural pH balance. Use a mister to keep skin cool and moist.