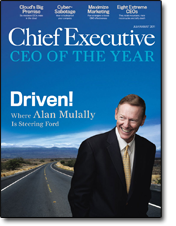 see why more CEOs read Chief Executive magazine than any other magazine
Greenwich, CT (PRWEB) October 31, 2013
Chief Executive Magazine, also known as CEO Magazine, announced the launch of new tablet editions for the Apple iPad and iPhone, Android devices and Kindle devices.
According to Publisher Marshall Cooper "The improved digital apps are available for free in the Apple App Store, Android Store and Amazon Kindle Store, so see why more CEOs read Chief Executive magazine than any other magazine".
Print subscriptions are still available at http://www.ChiefExecutive.net/subscribe
Published for over 35 years, Chief Executive Magazine is the leading publication dedicated to CEOs and enhancing the effectiveness of CEOs and the companies they lead. The publication focuses on the unique issues facing CEOs and is read by over 125,000 CEOs including the vast majority of CEOs running large and mid-market companies in the U.S. Each issue deals with the key issues CEOs must deal with: strategy, leadership, operational excellence, business finance, quality control, technology imperatives, etc. The focus is on practical, real world ideas and best practices. The magazine is also know for key features including the CEO of the Year, The Mid-Market Elite, The Best and Worst States for Business, The Best Companies for Leaders, The Value Creators and The Job Creators.
Chief Executive Magazine also produces events exclusively for CEOs including the CEO2CEO Leadership Summit (http://www.ChiefExecutive.net/CEO2CEO) and the B2B Marketing & Sales Summit (http://chiefexecutive.net/media/b2bsms/)
To subscribe, go to http://www.ChiefExecutive.net/subscribe