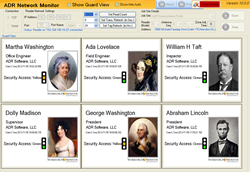 Reston, VA (PRWEB) November 06, 2013
ADR Software, LLC, an innovative provider of automated workforce monitoring and daily reporting to construction companies, recently initiated service with Swinerton Builders on their Midland, TX job site.
This is ADR's first project with Swinerton Builders. "We look forward to developing a long lasting relationship with Swinerton," said Marty Pollak, President of ADR Software. "This is an exciting step, given the high profile nature of the project and the anticipation surrounding the release of Guard View™." The project is set to last for 18 months.
ADR's new addition to the Workforce Monitor™ software suite, Guard View, has been six months in the making. The Guard View function automatically pulls up the name, picture, company, trade, and security clearance of each individual as they walk through a pedestrian portal entrance on a job site. This enables security personnel to check identity and access credentials as workers walk on site. This creates an increase in the throughput speed of laborers entering and enables improved accuracy of security personnel, thereby improving security on site.
Workforce Monitor is a service of ADR Software, LLC. General contractors, owners, project managers and sub-contractors use the service for any number of reasons including: to enable real-time workforce decision making, to create accurate and timely project workforce documentation, to meet contractual security obligations, to improve safety awareness and response readiness and to reduce exposure to financial risk.
Workforce Monitor utilizes RFID tags, embedded in all-weather job stickers affixed to hard hats and ID badges, to monitor workforce activity throughout the day without delays, interruptions or intrusions. Workforce Monitor is currently monitoring over 35,000 workers at construction sites throughout the United States.