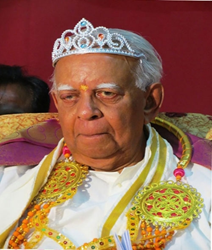 We think that your successor would best be from northeastern Sri Lanka, not a lawyer, and be a brave and forthright individual who will act rather than endlessly pondering and talking about what ought to be done
New York, New York (PRWEB) February 05, 2015
Tamils for Obama wrote a letter to Tamil National Alliance leader R. Sampanthan suggesting that it might be time for him to step aside and pass the leadership to the next generation of Tamil leaders. In their letter they urged him to retire gracefully and make room for a new generation of Tamil leaders, and that before summer 2015's probable general election would be a good time to do this.
"We told Mr. Sampanthan that we admire him for his long and capable service to the people of Sri Lanka. We also noted that some of history's great men have known when to leave, and that this is one of the things that made them great," said a press spokesman for Tamils for Obama. "We suggested that he should do likewise."
The letter began by assuring Mr. Sampanthan that, "We admire your long service to the Tamil people. This long service was a heavy and difficult burden to carry. It required endurance, strength, and judgment. We thank you for this prodigious undertaking."
The letter went on, "We have noticed that the great men of statecraft have known when to leave. After his long journey to liberate his own South African country, which ended in triumph, Nelson Mandela served five years as president and then passed the leadership to the next generation. George Washington led the revolutionary army of what became the United States of America, served as the first US president, and then retired to his farm at age 65. Letting go of his power voluntarily was perhaps the greatest thing he did. Compare Mandela and Washington to the many leaders who have named themselves 'President for Life.' There is really no comparison."
The spokesman for Tamils for Obama comments further that, "There will probably be a national election this year. Our thought is that this would be a good time for Mr. Sampanthan to pass the torch of Tamil leadership to a younger Tamil. We think that his successor would best be from northeastern Sri Lanka, not a lawyer, and be a brave and forthright individual who will act rather than endlessly pondering and talking about what ought to be done. His (or her) fellow northeastern Tamils will choose your successor, and we trust and expect that they will choose wisely."
In the conclusion of the letter Tamils for Obama wrote, "You are 81, and your term as an MP will be over in a few months. It is our suggestion that you begin your well-earned retirement. This is what great men do. Let the Tamil electorate choose your successor. He or She will carry the burden. You will be fondly remembered by Tamils everywhere."
Tamils for Obama is a politically active group of Tamil Americans. They believe that over 70,000 Tamil civilians were massacred during the last weeks of the Sri Lankan ethnic war. They have also watched the behavior of the Sri Lankan Singhalese victors after the war, and strongly conclude that Tamils in Sri Lanka will only be safe when this unfortunate island is divided into two states.
To contact the group, call at (516) 308-2645 and speak to, or leave a message for, the Communication Director, Tamils for Obama.
http://www.TamilsForObama.com
Email: info(at)TamilsforObama(dot)com