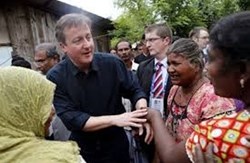 Sri Lanka must begin an inquiry into alleged war crimes by March or face international intervention - PM Dvid Cameron
(PRWEB) November 20, 2013
Tamils for Obama recently wrote a letter to UK Prime Minister David Cameron, who was in Colombo for the Commonwealth conference. The letter praised Cameron for taking the time to visit the northern province, and for demonstrating conviction and firmness in issuing an ultimatum to President Rajapaksa demanding that Rajapaksa "begin an inquiry into alleged war crimes by March or face international intervention," as quoted by the BBC(Sri Lanka: I was right to go to summit says Cameron, November 18, 2013).
A press spokesman for Tamils for Obama said, "We know that the government of Sri Lanka uses commissions and committees to divert attention from their inaction. We hope and believe that PM Cameron knows this also. Tamils for Obama think that he has shown moral fiber by issuing an ultimatum."
In the letter Tamils for Obama stated, "You recently travelled to Sri Lanka to attend the Commonwealth conference. In Sri Lanka you went to Jaffna and met victimized Tamil inhabitants. You also presented President Rajapaksa with an ultimatum: 'Sri Lanka must begin an inquiry into alleged war crimes by March or face international intervention.'"
Tamils for Obama wrote, "We thank and praise you for both these actions."
The Tamil group then acknowledged that of course the PM's time is limited, but named three actions which they wished he had had time for. These were:
"1. You met with three TNA members, all three of whom live most or all of their time in Colombo. We regard all of them as too sympathetic to the Colombo government. We wish you had been able to meet with elected representatives who live in and represent the northeast.
2. When you went to the Jaffna Public Library, there was a group of mothers and wives of Tamil men who were taken into custody by the Sri Lankan government and never seen nor heard from again. We wish someone from the TNA had guided you to meet them and so you could have heard their complaints and grievances.
3. We also wish you had been able to visit the Tamil-inhabited eastern province and its many war victims."
In closing, Tamils for Obama wrote, "It appears to us that you have taken the correct measure of the Sri Lankan government. You have seen, as others have, that Colombo creates commissions in order to distract and delay anyone, like yourself, who wants to see justice done.
"We think you were right to give Mr. Rajapaksa your manly ultimatum."
Tamils for Obama is a politically active group of Tamil Americans. They believe that over 70,000 Tamil civilians were massacred during the last weeks of the Sri Lankan civil war. They have also watched the behavior of the Sri Lankan Singhalese victors after the war, and strongly conclude that Tamils in Sri Lanka will only be safe when this unfortunate island is divided into two states.
To contact the group, call at (516) 308-2645 and speak to, or leave a message for, the Communication Director, Tamils for Obama.
Email: info(at)TamilsforObama(dot)com